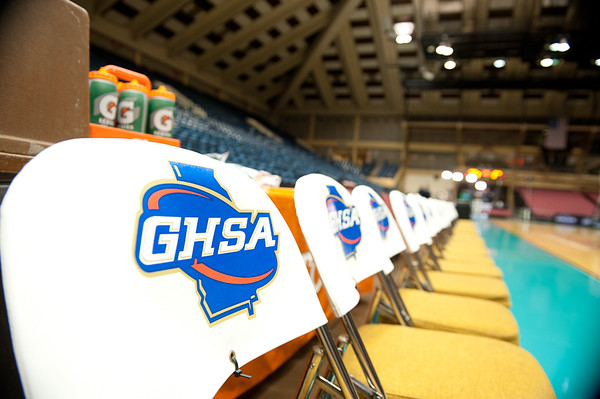 Photo by Ty Freeman
SEBA Atlanta Hoop Festival:
Boys
South Paulding 54, Blessed Trinity 49: Blessed Trinity led 43-39 with 7:02 left in the final quarter and 45-43 with 5:42 left before South Paulding finished off a 15-6 run to clinch a 54-49 victory. South Paulding's strong finish followed an impressive rally by Blessed Trinity that saw the Titans overcome a dreadful start. The Titans opened the game with a 12-0 deficit and did not get their first points until John Michael Bertrand scored with 1:25 left in the first quarter. South Paulding took a 14-4 lead into the second period. Blessed Trinity chipped away at the lead by getting to the foul line but still trailed 29-21 at the half. Kane Williams led South Paulding into the locker room with 13 points, seven rebounds, three assists and four steals, while Bertrand netted 10 points. Blessed Trinity opened the second half on a 14-4 run and claimed its first lead (35-33) with 3:45 left in the third quarter. C.J. Abrams sparked the third quarter run with seven points off the bench. South Paulding finally reclaimed the lead with 3:19 to play at 49-47. Williams dished to Anthony Brown for a emphatic dunk that gave the Spartans some breathing room with less than two minutes to play. Brown finished with 17 points and 13 rebounds, while Williams stuffed the stat sheet with 22 points, eight rebounds, five assists and five steals. Three Titans finished in double-figures with Bertrand leading the way with 16 points, Kyle Swade chipping in 12 and Abrams adding 11.
Scores 
Boys
Berkmar 60, Harrison 54
Dacula 72, Pope 60
McEachern 84, Dacula 76 (2OT)
South Paulding 54, Blessed Trinity 49
Sprayberrry 82, North Cobb Christian 77
Peach State Holiday Classic
Boys
Whitefield Academy 53, Southwest DeKalb 52: Whitefield Academy's 14-13 lead disappeared after the Panthers used a 15-6 scoring advantage in the second quarter to build a 29-19 lead. Whitefield Academy cut the deficit to 38-29 entering the final quarter and outscored Southwest DeKalb 23-14 in the fourth quarter to steal the win. Whitefield Academy faced a 52-50 deficit until Brendon Myles his a game-winning pull-up 3-pointer with two seconds left. Myles led Whitefield with 17 points and added a team-high 12 rebounds to go with two steals. Junior Isaiah Hart chipped in with 12 points, four assists and two steals and senior Malik Jones added eight points with five assists and five rebounds.
Brendon Myles gives @WhitefieldAcad the lead with 2 seconds left! 53-52 @PeachStClassic #ATLPeachElite pic.twitter.com/qagEnaGzG8

— ATLPeachEliteSeries (@ATLPeachElite) December 19, 2015
Girls
Tucker 74, Douglas County 64: Tucker outscored Douglas County 21-12 in the fourth quarter to advance to the Monday's championship round of the Peach State Holiday Classic. Kierra Johnson-Graham led Tucker with a game-high 24 points and teammate Bria Bass netted 18. Amari Robinson led Douglas County with 19 points.
Semifinals
Boys
Whitefield Academy 53, Southwest DeKalb 52
Girls
Tucker 74, Douglas County 64
Westlake 68, Alexander 39
Lincoln County Christmas Tournament
Championship
Girls
North Oconee 54, Athens Academy 26: North Oconee improved to 8-2 Saturday evening with a convincing 28-point victory over Athens Academy (5-5) to win the 2015 Lincoln County Christmas Tournament. The Titans received balanced scoring from Keller Barks (10 points), Makayla Nichols (10), Emma Weynand (10) and Camryn Williams (9).
Boys
Lincoln County 55, North Oconee 50
Other scores:
Boys
Berkmar 60, Harrison 54
Bleckley County 64, Perry 56
Brookstone 46, Mt. De Sales 32
Camden County 74, Randolph-Clay 69
Cartersville 74, Paulding County 48
Dacula 72, Pope 60
Dodge County 68, Wheeler County 38
Douglass 60, North Atlanta 45
Fayette County 97, Eagle's Landing Christian 38
Handley (AL) 67, Mt. Zion 46
Johns Creek 61, North Davidson (NC) 50
Landmark Christian 94, Beulah (AL) 46
Liberty County 82, McIntosh County Academy 44
Lincoln County 55, North Oconee 50
Lower Richland (SC) 66, Pace Academy 55
Lowndes 74, Blountstown (FL) 37
McEachern 84, Dacula 76 (2OT)
Mt. Paran 50, Adairsville 28
Newnan 68, Spartanburg (SC) 65
Newton 56, Cedar Shoals 53
Rockdale County 64, Northeast (FL) 53
Sequoyah 63, Etowah 49
South Cobb 62, Colquitt County 30
South Paulding 54, Blessed Trinity 49
Sprayberry 82, North Cobb Christian 77
Stratford Academy 64, Schley County 43
Tallulah Falls 60, Banneker 49
Walnut Grove 61, Spalding 30
Washington-Wilkes 70, Athens Academy 65 (OT)
Wesleyan 53, Pinecrest Academy 50
Whitefield Academy 53, Southwest DeKalb 52
Woodstock 67, Lovett 55
Woodward Academy 68, Marist 55
Girls
Brookstone 36, Mt. de Sales 34
Buford 41, Northwest Whitfield 32
Colquitt County 61, Perry 23
Dawson County 57, Hardaway 32
Dodge County 51, Wheeler County 40
Haralson County 61, Ranburne (AL) 42
Harrison 52, Archbishop Wood (PA) 46
Heritage-Conyers 65, Elite Scholars Academy 20
Hiwassee Dam (NC) 67, Mt. Paran 45
Jackson 71, Rutland 29
Jefferson 31, Commerce 22
Jonesboro 53, Rockdale County 42
Landmark Christian 53, Beulah (AL) 32
Lassiter 46, Excel Christian 26
Lithia Springs 66, Mill Creek 54
McIntosh 54, Sandy Creek 28
Newnan 39, Banneker 36
North Gwinnett 56, Brookwood 45
North Oconee 54, Athens Academy 26
Northview 45, Fellowship Christian 40
Oakland (TN) 55, South Forsyth 54
River Ridge 58, Cass 47
Sequoyah 64, Etowah 38
Sonoraville 53, Kennesaw Mountain 34
South Gwinnett 69, Athens Christian 41
Stone Mountain 68, McNair 27
Stratford Academy 66, Schley County 28
Therrell 46, Ola 25
Tucker 74, Douglas County 64
Wesleyan 52, Homewood-Flossmoor (IL) 45