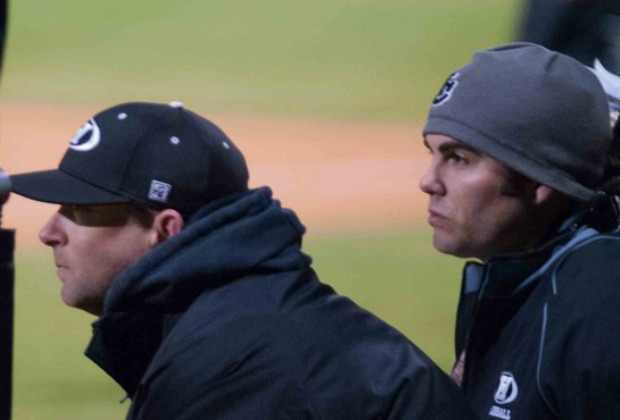 It took three games, but the Bears of Houston County won their very first baseball state title in program history today at Whitewater. The Bears took the final game of the series 8-6 to grab Class AAAAA baseball's top prize over Whitewater on the Wildcats' home field.
This three-game series had pretty much everything that makes baseball the unique sport that it is. In Game 1 of the series, Whitewater came back from a 5-1 deficit with seven total runs in the sixth and seventh innings. This included a walk-off three-run homer by Wildcats first baseman Taylor Turner that squeezed just inside the left field foul pole at Wildcats Field. It brought controversy with the ending to this game, with all four GHSA umpires meeting to determine if the ball did indeed stay fair. The question was brought up when Houston County left field Josh Profit came running into the infield emphatically indicating that the ball went foul.
That being the case, Houston County coach Jason Brett had to rally his guys and get them ready for a game just about 30 minutes later.
"I challenged them after that game by saying 'don't let it end like that,'" Brett said. "We've got to flush that game and move to the next. It's not who wins the first one, it's who wins two games in the series."
Luckily for Brett, his guys would do exactly that. It wasn't easy in the second game, with Whitewater using early momentum to put up a 6-0 lead on Houston County after two whole innings. It was in the bottom of the third when Houston County would wake up with five runs in that frame. That scoring barrage was led in large part by a three-run homer by Bears right fielder Andy Moore. Then in the fourth, Georgia Tech-signee and third baseman Blake Jackson added his 10th homer of the season on a towering solo shot to straight away center field to tie the score 6-6.
The unsung hero for Houston County in this game was sophomore left hander Tanner Hall, who picked up the win in seven and two-thirds innings of relief. Hall came in for Game 2 starter Hunt Smith.
Hall and the Bears entered the bottom of the ninth down 7-6 after Whitewater shortstop Caleb Norton reached on a one-out triple and then came home on a throwing error by Houston County right fielder Andy Moore.
The Bears loaded the bases in the ninth and Hall drove in the tying run with a walk. Shortstop/Georgia State signee Justin Jones drove in the winning run with a walk-off single to win Game 2 8-7.
Game 3 did not start any easier for Houston County, with Whitewater right fielder Nicholas Fuerstenau sending a 1-0 pitch from Hunter Phillips over the left field wall for an early 3-0 lead.
Houston County put up its first run of the game with an Andy Moore RBI single in the second. However, Wildcats starter Jordan Holmes left the bases loaded with a strikeout and Justin Jones
Whitewater added another run in the third to make it 4-1 and this lead would hold until the fourth when the Bears would wake up. Houston County would add six runs in that frame, anchored by a grand slam off the bat of Hunt Smith, a ball he knew was gone right off the bat.
"I've squared a couple up, but not like that," Smith said. "(At least) not in a moment like that."
Game 2 hero Justin Jones was the pitcher of record when he gave up the three-run homer in Game 1 and wanted to make up for it in Game 3, when Brett went to him yet again in relief. In the seventh he had to face Taylor Turner again and this time got a better result in the top of the seventh.
"I know I didn't want to throw the same pitch I did that time," Jones said. "I was just trying to throw strikes and throw my pitch low and away. He hit it into a double play and got it. I just trusted my defense."
Houston County claimed a 8-6 win and proved that eight runs was the magic number in this series. The winner scored eight runs in all three games.