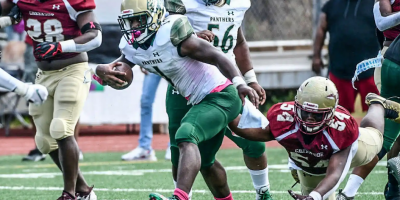 Westlake and Hughes will face off in one of the most anticipated Week 7 matchups anywhere in the state this Friday night at Langston Hughes High School Stadium. The two Fulton County powerhouses have crossed paths in recent seasons, but this showdown will be the first time that they are playing in a region showdown since the 2015 season when they were both members of Region 3-6A. The Westlake Lions are entering the game with a 3-1 record, while the Panthers are off to the first 4-0 start in program history. Currently, the Lions are ranked No. 6 in Class 6A, while the unranked Panthers find themselves in position to earn a seat in the polls with a victory this Friday.
Hughes opened its doors as a school for the first time in 2009 and the program has crossed paths with Westlake on eight occasions prior to their upcoming matchup. During this span, Hughes has had the slight upper hand—with a 5-3 all-time record against the Lions. 2017 marks the last year that the teams played. Both teams were ranked in the top 10 of their respective classifications at the time, and Hughes was able to score a 16-13 victory.
Now, that the circumstances are a little different, and the stakes are higher, this game becomes more intriguing. Neither of the teams have ever won a state title, but they have won their fair share of region titles, with Westlake having 12 all-time region championships and Hughes claiming back-to-back region titles in 2012-13. Undefeated Lovejoy, which is currently ranked No. 4 in Class 6A is also looking to contend in Region 4 this season, so this matchup will be critical in both the polls and the race for this year's region crown. Hughes head coach Daniel Williams gave his thoughts about the significance of this game and his team's approach heading in.
"Well, what we tell our guys is this is just the next team up on the schedule." said Williams. "We don't really look at it as a statement. We just look at it as the next team on the schedule that we have to play hard against. Our guys have bought in and they'll be ready to go no matter who we play."
The Panthers will be facing a potent Lions offense that has averaged 481.8 total yards per game. Westlake's offensive production and overall balance makes it one of the toughest offenses the Panthers have faced this year and it will require them to continue to be stout in order to slow Westlake's offense down. Hughes' defense, however, has proven to be capable of challenging a top team like Westlake and they have been particularly successful in creating takeaways and racking up sacks. The unit has already posted six interceptions and 21.5 sacks. Coach Williams elaborated on why his defense has been so successful.
"Its important our defense plays well not just against Westlake but against anyone." said Williams.  "Defensively, guys have done a great job of reading their keys and keeping everything in front of them and not giving up explosive plays. We've only given up one passing touchdown thus far. They've also been consistent at getting after the quarterback."
The Panthers running game has been a big factor behind this year's undefeated start and it is spearheaded by junior running backs Antonio Martin Jr. and Xavier Smith whom have combined for 800 of the team's 1,035 total rushing yards and nine of their 11 rushing touchdowns. If the Panthers win this game, it will have to be off the strength of their running game and defense. Coach Williams complimented his two Class of 2022 tailbacks on how their impact on this team has been so strong.
Those guys have been very impactful since last year." said Williams. "Last year I called them super sophomores and now that they're in their junior years, they really become leaders on this team. Antonio and Xavier really push each other to play and fight hard. Our team expects them to continue how successful they've been this season."
It will be very interesting to see how the Lions plan to stop this rushing attack and how they plan to attack the Panthers' stout defense that is only allowing 10.25 ppg. Coming away with a victory will not be easy for either team, but for the Lions they're offensive attack, it will be crucial to play mistake free football in order to pull out a win. Head Coach Bobby May spoke about the gameplan and what they need to do to have success against this aggressive Panthers defense.
"Yeah their defense is pretty stout and what we have to do is do a good job of minimizing negative plays and getting into negative field position," said May. "We also have to make sure we don't have as much penalties on offense and not be uncharacteristic."
Despite the Lions' offense coming off a 50-point outburst in last week's victory at Shiloh, coach May spoke about not really being satisfied with where they currently are and feels like they can still get better. How much better this offense can get before the playoffs come around is something that we would all love to see, but until then, the matchup of two great offense going against two great defenses is the type of game that should be expected to unfold this Friday.
Coach May emphasized the importance of taking better care of the football after his team's only loss of the season (42-21 to Hillgrove) saw sophomore Quarterback RJ Johnson turn the ball over three times and put the Lions in a hole they ultimately were unable to overcome.
"Taking care of the ball is something that we always want to do especially going against a defense like this." said May.  "We can't have turnovers and we have to make sure we have good field position. Even when we punt we don't want to give them a short field. Sometimes your best defense is your best offense."
This game looks to be very competitive and could obviously impact the rankings for Class 6A when they are released next week. Only time will tell how if Westlake can maintain its status at No. 6 in the polls and if Hughes can keep its historic start to the season going. This matchup will set the tone as Region 4 play gets underway and it will be the latest test for both programs as they march towards their goals of conquering the region and claiming the ultimate prize—which is winning a state championship for the first time their histories.