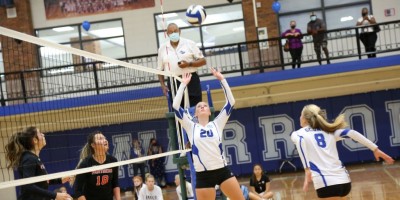 Oconee County volleyball coach Mark Oglesby has had a unique year or so. He moved to Georgia from Texas at the beginning of last school year and in the late spring, he took over the head coaching duties of the now No. 8-ranked program in Class 3A amidst the early days of the COVID-19 pandemic.
With the sports world collectively shut down at the time, Oglesby was forced to adapt his approach of learning about a new team in a new state without being able to practice or prepare properly for the upcoming season, which still was in doubt.
"I think it was the beginning of May when it was officially announced that I had the position," Oglesby said. "So then it was like, 'Are we going to be able to practice? Are we going to have a season?' So not only was I trying to figure out what coaching volleyball here – the rules, the procedures for everything at Oconee County — looked like. But then, how do you manage the COVID situation."
And that was the offseason, well before the teams took the court for a match. Now on the precipice of the playoffs, softball and volleyball programs around the state are dealing with the logistics of the region/area tournaments and the state playoffs during a pandemic.
The GHSA amended the schedules of the volleyball and softball state playoffs in response to the pandemic. These sports will be the first in our state to reach state championships in the "new normal" sports world, and it will be interesting to see what it looks like.
"In the past, it was the first two rounds, the No. 1 seed of the four hosted," he said of the volleyball tournament. "But that is different this year. Now it will be on Tuesday and Saturday, but the highest seed will host. So what it's going to do is limit the number of teams that will be there and therefore limit the number of playoffs. So if something were to happen, it's going to limit the ability for COVID to spread."
Oglesby, who graduated from the University of Nevada in 1990, has coached in four states – Washington, Michigan, Texas and Georgia. In his career, he coached everything from tennis and basketball to volleyball and baseball and has seen athletes of all types.
But, he has never seen a team have to weather an unseen enemy while being – as best as possible — laser-focused on the area tournament and state playoffs, which is something that programs across the state are dealing with or will deal with.
"I've appreciated how our district has handled it," he said, before pivoting. "Even more so, I've appreciated how well my players have adapted and the attitude that they've had with it."
But what happens when a team is quarantined during the playoffs?
"The GHSA came out with something saying that when we get to playoff time, if a team cannot go, it will go down in the book as a forfeit," Oglesby said. "That is a tough way, regardless, whether you are the school forfeiting or the school getting the benefit of the forfeit. That's just a tough way to go."
So what's being done to avoid a possible quarantine? Adaptation.
"We've also had to have conversations with our athletes," Oglesby said. "We tell them, 'you have got to practice social distancing, even at lunch. When you go eat lunch, you need to be more than six feet away from somebody.' So, it is just doing a lot of different things that all the coaches in our program and coaches around the state – in all sports – have had to adapt."
Oconee County (28-8, 9-1) currently has a 3A playoff position secured. But the Warriors will have to win the area tournament Saturday to capture the top-seed from their area.
"We've got to take care of business on Saturday," he said. "We have got to win the semifinal match. And then win the final match. Odds are we're going to play Hart County again, who beat us in three sets earlier in the season, but then we beat them in two sets last week."
Leading the Warriors is Grace Wenrich, a 5-foot-9 junior setter who averages 7.8 assists per set with an area-leading 615 assists, 82 attacks, 195 digs and 87 kills. But freshman middle hitter/outside hitter Brinley Bartlett has blossomed into an asset for Oconee. The budding star has 154 kills in 78 sets played and is climbing the stat list in the state and the class.
"Brinley is a freshman playing middle," he said. "She never played middle; she's normally an outside hitter. She leads out team in kills, she is second in our league. She is almost in the top 100 in state and in 3A overall, she is 22nd with kills as a freshman. With blocks, she is up there too, 12th in 3A. For a freshman playing a brand-new position, she has improved so much from the beginning of the year to now."
Softball and volleyball teams will enter a new realm — pandemic playoffs — next week. For softball, the playoffs begin Monday and Tuesday. For Volleyball, teams will begin with the first round of matches on Tuesday and Wednesday.