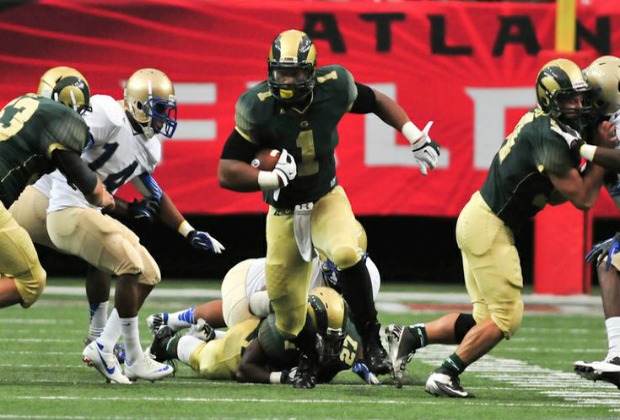 Terance Johnson
Things always start to get interesting in the second round of the state football playoffs. The matchups get better, the intensity rises and upsets seem to be the norm. And this year seems to be no different from years past.
One of the more highly anticipated second-round games comes in Gwnnett County between two of the state's best programs. Defending Class AAAAA champ Grayson will host North Gwinnett in a juicy matchup that will have eyes on it from high school gridiron fans all over the nation. Bigtime senior prospects like Robert Nkemdiche and DeVondre Seymour will pique the interest of recruiting gurus.
Surprisingly, the two Gwinnett power programs have only met once on the gridiron, a 23-19 Grayson win in 2010 that paved the way to the Rams advancing to the semifinals. Mickey Conn's program has won 10 games or more each year since 2007 while North Gwinnett has won at least 10 games each year since 2006.
There are two other all-Gwinnett duels Friday night as Norcross hosts surprising South Gwinnett while Mill Creek hosts No. 4 seed Brookwood. West Forsyth, which has been building under coach Frank Hepler since it's inception as a program in 2007, faces Parkview in Round 2. The Wolverines made the quarterfinals last season and would not be satisfied with anything less this year.
The Class AAAAA slate features a bevy of metro Atlanta matchups Friday night. Allatoona travels to Hallford Stadium to face DeKalb goliath M.L. King, which has not missed a step despite seeing former coach Mike Carson resign just before the season started.
Fellow DeKalb power Stephenson will face west metro juggernaut East Paulding, which is 11-0 in coach Chuck Goddard's first season. The Raiders have won double-digit games in five of the last seven years, each of them under former coach John Reid until this season.
Tucker and North Paulding, which each defeated higher-seeded foes last week, will meet to decide who gets the winner of Thomas County Central and Northside-Warner Robins in the quarterfinals. Meanwhile, a contrast in styles will take place in Cobb when Gainesville's high-powered offense hits the road to take on a tough Kell defense.
In Class AAAA. Grady, Marist and Sandy Creek are the only metro Atlanta teams remaining. Marist's clash with Carrollton looms large on the Friday night landscape as the winner will become one of the favorites to make the Georgia Dome.