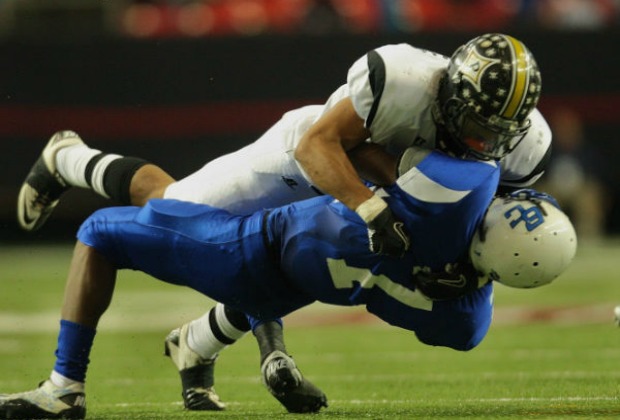 Rob Saye
St. Pius X will host Hart County after rushing for 525 yards against Dawson County in a 72-28 Golden Lions' victory. Ryan Braswell led the charge with 127 yards and four touchdowns. Look for Braswell, Jack Spear and Brandon Mitchell to once again try to get the offense cranked up with a shot at the quarterfinals on the line.
Peach County began the year as the Class AAA favorite and could potentially go all the way to the finals without hosting a playoff game after Round 1. Peach County, the No. 2 seed out of Region 2-AAA, will face Pierce County then could travel to North Hall before heading out for a semifinal game, perhaps against St. Pius X.
Buford has gone 25-1 in the postseason since 2006 with four straight titles from 2007-10. The Wolves bumped off Cedar Grove last week but now must travel to North Oconee. The Wolves are used to hosting playoff games; however, following two forfeit losses, the Wolves are a two-seed that could, like Peach County, make the semifinals having hosted just one game.
Westminster saved its biggest defensive performance for the playoffs, posting the team's first shutout of the season with a win over Pepperell in Round 1. The Wildcats will need to conjure up another huge effort with a trip to Region 8-AA champion Jefferson looming.
Meanwhile, Greater Atlanta Christian has its hands full with a team that no one seems to be talking about despite an unblemished record. Heard County averages 45 points per game and GAC will need a focused effort from Rafe Chapple with star tailback Kyle Scales recovering from a lower leg injury. Scales rested last week as the Spartans knocked off Model behind Micah Abernathy's 129-yard evening.
Seminole County will look to do damage on the ground when the Indians host Commerce. The rushing attack, led by Jakhari Martin, has posted nearly 2,800 yards entering the Class A playoffs. Meanwhile, Wilcox County looks ready to make a serious run behind quarterback Mikail Grace. Lastly, Eagle's Landing Christian Academy is finally healthy after Keyante Green and Isaac Rochell each missed time this year with various ailments. The two stars should help Jonathan Gess' squad add on to a nine-game winning streak that began back in August.