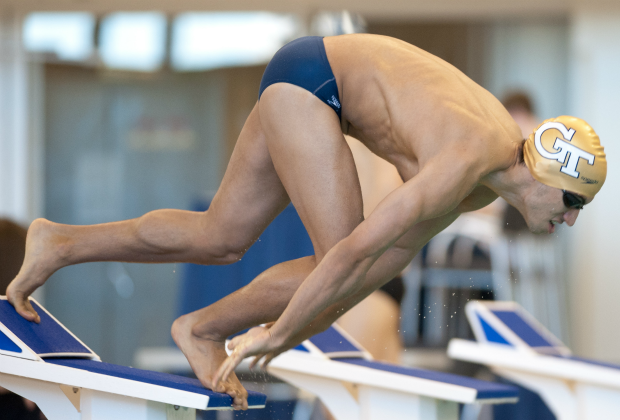 Georgia Tech Sports Information
Opening Ceremonies for the 2012 Summer Olympics in London will take place on July 27. Athletes from across the globe will compete in events such as track and field, swimming and basketball in an effort to bring home gold for their countries.
Tech rising sophomore swimmer Andrew Chetcuti recently participated at the Small States of Europe competition in the 50-meter and 100-meter freestyle events, helping him qualify for the Maltese men's Olympic swim team. Chetcuti, who just completed his freshman year at Tech, was born in Marsascala, Malta, and has now set five Maltese national records.
"It's been pretty decent," Chetcuti said in a Skype conversation with John Cooper from Sting Daily. "I wasn't really expecting any national records, to be honest, at the meet because I'd been training straight through. So I was expecting to get some decent in-season times. So I was pretty shocked when I broke them."
The rising sophomore sensation finished the 50 meter in 23.60 seconds and the 100-meter heat in 51.85 seconds. Those marks join Chetcuti's list of records, which also includes the 200-meter freestyle and 200-meter and 400-meter medley relays.
"I'm excited that I'm actually going. It's a little bit of a shock," Chetcuti said of his expectations for the Olympics. "I'm not really sure my goals for London, I definitely want to go a sub-50 seconds for the 100 free and try to get top 30, I would be happy with."
Tech is no stranger to sending swimmers to Olympic competition. Three Yellow Jackets competed in the Olympic games in 2004 for various countries. Vesna Stojanovska represented Macedonia in 2004 while Gail Nova suited up Israel in Beijing. Onar Usa saw two tours of Olympic duty (2004, 2008) for Turkey.
Tech head coach Courtney Shealy Hart, a two-time gold medalist at the Sydney Games, is beaming with pride for her swimmer. Hart told Ramblinwreck.com that she plans to counsel Chetcuti just before he leaves for competition to give it his best effort no matter what.
"Continue to work hard. Don't relax now that you've made it," Hart said. "And while he's there, enjoy it. It's a once-in-a-lifetime experience. A lot of people will never have the chance to do. So just enjoy it and have fun."