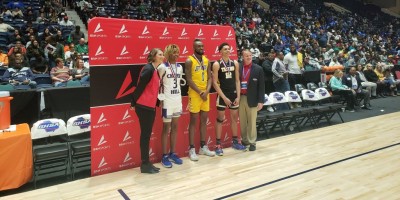 Seth Ellerbee
Early growth, a steady love for the game of basketball, persistence and the other various factors helped propel Jeff Davis senior Ja'Queze Kirby to victory in the GHSA's inaugural slam-dunk competition Saturday at the Macon Centreplex.
"It means a lot to me," said Kirby, a 6-foot-6 senior power forward, shortly after receiving his dunk championship medal. "It means that all the work I have put in is starting to pay off for me."
Kirby was competing against Chapel Hill junior Micah Bell, a 6-3 wing player, and Alcovy senior Oliver Gerard, a 6-4 power forward. To earn the invitation to the dunk finals, the top-three finalists went through weeks of qualifying, with Bell receiving 1,063 votes, Gerard 788 and Kirby 695.
In the first of three rounds, Kirby opened with windmill dunk which was set up by a self-bounce pass. In his second attempt, he completed a reverse-windmill dunk from the right side of the basket. In the second part of the first round, his 360 reverse dunk tied him with Bell, both with 55 points. Gerard trailed with 53 points.
After round two – in which Gerard took the lead with a self-bounce pass dunk off backboard, which he converted into a 360 windmill – Kirby trailed by three points 112-109. Bell was eliminated.
In the title round, Kirby grabbed control of the competition with a reverse pump dunk in which he jumped, spun, pumped the ball between his legs and slammed it back over his head. The dunk won him the competition over Gerard, who finished second and Bell, who finished third.
Kirby said he didn't really pick up a basketball until around the eighth grade, but, "I was around 6-3 at the time," he said, laughing. "And so I was pretty much dunking then. I was pretty big."
While the dunk championship was special, his thoughts soon returned to his Jeff Davis team, which was eliminated in the first round of the tournament.
"I am excited," Kirby said, then paused.  "I am upset, though, that I couldn't finish my senior season here with my team. It is still great to come here and have all of the support here. So it's still great."