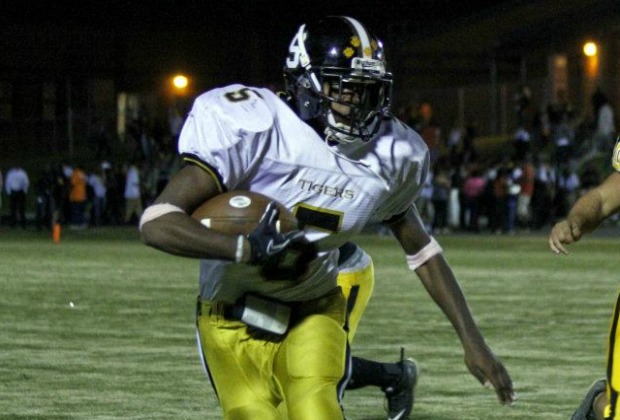 Swainsboro High School
Rico Johnson of Swainsboro recently committed to the University of Georgia after being largely unknown heading into the summer. For a school in rural southeast Georgia, having a player noticed by the in-state powerhouse Bulldogs was a boon.
"It is big for our program," assistant coach Ashley Hooks said of the Johnson commitment. "The energy around the place has been great and the kids are really excited."
"Some of the other kids know (Johnson's sudden notoriety) will give them a chance to be seen too."
Despite having some success in the program's history including the 2000 state title, Swainsboro had a bit of a downturn last season, finishing 3-7 in coach David Johnson's second year. But changes were made to the strength and conditioning program in the offseason, and the Tigers are looking forward to rebounding in 2012.
"As soon as our season ended in November, our offseason started," said Hooks. "We put in a new strength and conditioning program to help make us more of a power team. We looked at what some of the other schools in the area were doing and drew from that."
Having Johnson in the fold again this season will help as well.
"We're going to put Rico in the backfield and spread him out," said Hooks. "We're going to try to get him the ball in as many different situations as possible."
The schedule, however, will be unforgiving for the Tigers. Swainsboro will move up to Class AAA this season, and with the move, will have to face powers like Statesboro, Thomson, Washington County and Wilcox County.
But the Tigers will be ready. Senior quarterback Deantae Johnson and running back Jamerico Bell will join Rico Johnson to form a lethal trio on offense.
"It's going to be a battle every week," said Hooks. "But we're always ready for a challenge."
The challenge this season is to get closer to the 10-1 record the Tigers earned during Johnson's first season in 2010 and put the memory of last year's 3-7 campaign in the rearview mirror.