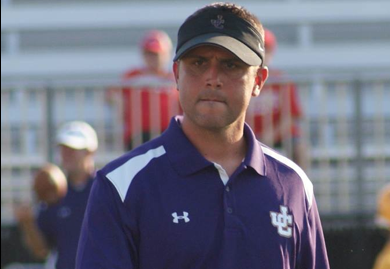 Photo by Jones County Football
Jones County sent a message on Friday with a 45-37 win over previously top-ranked Northside Warner Robins. Sophomore quarterback Bradley Hunnicutt tore up the secondary with 350 yards and two touchdowns. Northside led 10-7 early, but Chandler Ramage sprinted in for a 71-yard touchdown and Hunnicutt found Davian Daniel for a 12-yard touchdown pass that sparked a 21-10 Jones County lead at the half.
Since 2002, the Greyhounds have posted just two winning seasons. Their 9-3 mark in 2001 is the school's most ever wins and they've made the playoffs just once in the last 12 years. Where did this potent offense come from? The answer to that question is first-year head coach Justin Rogers.
Rogers served as the offensive coordinator for Griffin the last four seasons and helped the Bears capture the 2013 Class AAAA state championship with an offense that averaged 42.7 points per game. The Bears were 43-7 in Rogers four seasons at the school.
This year's Greyhounds offense is averaging 49 points per game and 452 yards of offense per outing. Nine different players have accounted for 17 rushing touchdowns through the first four games and a trio of juniors catching passes from the sophomore quarterback leads the receiving corps.
Jones County isn't the only middle Georgia team that is wreaking havoc on Class AAAAA this year. Houston County is off to a 4-0 start and thrashed Warner Robins 62-30 on Friday. Houston County led 28-23 at the half before outscoring the Demons 34-7 after the intermission. Von Lassiter is in his second year as head coach of Houston County and led the Bears to a 7-4 finish last year, the most wins since 2006.
Like Jones County, a sophomore quarterback has powered the offense. Jake Fromm has already tallied 1,158 passing yards with 10 touchdowns while throwing just two interceptions. Running back Kenny Gant has 10 rushing scores and three receiving scores in the first four games and junior Darion Anderson has 462 receiving yards and seven touchdowns to lead the receivers.
Jones County hosts Grovetown before a trip to Lakeside-Evans the following week and enjoys a bye week before they visit Houston County for an Oct. 16 showdown. The Bears visit Lakeside-Evans this Friday and take a week off before visiting Cross Creek the week before their clash with the Greyhounds.