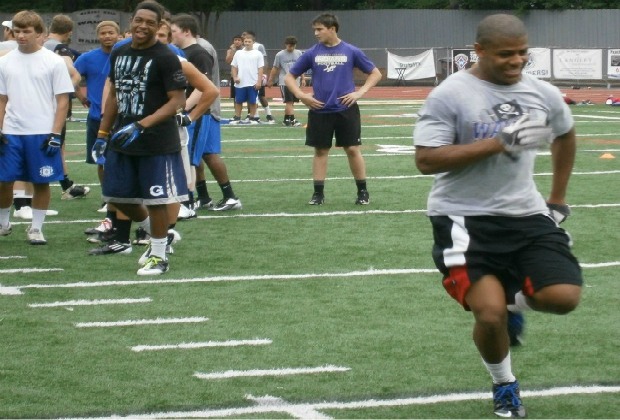 Lisa Sager
Monday marked the start of the 9th Annual Atlanta Quarterbacks and Receivers camp. The camp was started by Walton High School Offensive Coordinator, Tripp Allen, and is held in Walton's Raider Valley. The camp goes Monday through Wednesday morning of this week. I am a former Walton Raider myself and went to the camp in its first year as an 11th grade receiver. This is my second year coming to the camp as a coach.
This year's group consists of about 160 players represented by East Paulding, Harrison, Henderson, Lassiter, Lumpkin County, Pope, St. Pius, Tucker, Walton and several kids from Florida who were in the area for other camps. This is a unique event in the summer offseason. Quarterbacks and receivers perform as many reps as they can, and more often than not, they get matched up with a player from another school. For example a St. Pius quarterback throwing to an East Paulding receiver or a Walton quarterback throwing to a Lumpkin County receiver.
The players looked sharp for Day 1, and it was clear that teams have already been busy this offseason with drills and 7 on 7 tournaments. The quarterbacks were hitting their targets and the receivers were catching the ball.
When I helped coach this camp last year I remember seeing Walton's star running back Tyren Jones in person for the first time on the football field. I thought he was a receiver the way he was running routes and catching the football. Today was the first time I have seen Jones since the end of the 2011 season. Jones showed up today wearing a big smile and roughly 20 pounds of additional muscle. He brought the same route running, and great catching as before, but Jones showed up looking more like a power back than ever before.
Leading the QBs today was Parker McLeod who just days ago announced he was heading to Alabama along with Jones. McLeod looked great today, and, like all the other quarterbacks, was told multiple times after the workout concluded to ice his throwing arm. The quarterbacks got a ton of reps today and will get just as many tomorrow.
St. Pius X brought all their quarterbacks, tight ends and receivers again this year. Leading the younger group of receivers like he did last year was Fred Dorsey. Dorsey enters his junior season playing running back and defensive back for the Golden Lions. For the second straight year, he is running excellent routes, catching the ball extremely well and looking like a receiver. What the smaller Dorsey lacks in size, he makes up for with effort and quickness.
The defensive coordinator from the 2011 Walton Raiders, Chuck Goddard, is now head coach at East Paulding. Goddard brought his talented group of Raiders into the home of his former Raiders where he coached a defense that made it all the way to the state championship last season.
The big story of the first day was the Alabama sweep of McLeod and Jones, as both Raiders are coming off outstanding 2011 seasons. Both Jones and McLeod came out today looking sharp and working hard. Day 2 begins at 9:00 a.m. Tuesday in Raider Valley.