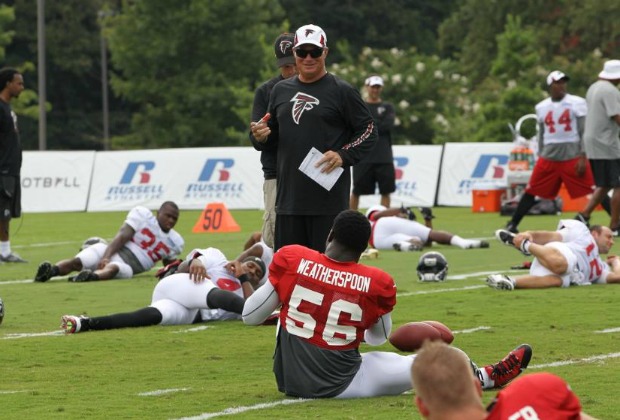 atlantafalcons.com
Julio Jones and Sean Weatherspoon returned to practice after being sidelined for the preseason opener, which visiting Cincinnati won 34-10. Weatherspoon dislocated his finger on Aug. 5, and Jones rested with soreness in his hamstrings. On Aug. 6, starting right tackle Mike Johnson was injured for the entire 2013 season during a combined drill with the Bengals. Johnson was moved to injured reserve and Atlanta signed rookie tackle Jeff Nady. The college free agent was originally singed by Jacksonville following the 2013 NFL Draft.
BIG HOLMES …
Second-year pro Lamar Holmes is the new starting right tackle. Holmes and undrafted rookie free-agent Ryan Schraeder are both seeing a lot of action in the remaining preseason, and Holmes has three weeks to prepare for the season opener in New Orleans. Matt Ryan worked efficiently with the first offense last week and posted a 98.8 passer rating on six of nine attempts in his return to the Georgia Dome.
Five different receivers caught passes from Ryan, including third-year receiver Drew Davis. The former Oregon Duck was promoted out of Atlanta's practice squad before last season and eventually caught his first NFL touchdown against the Eagles. Davis continues to impress his quarterback and stretched a screen pass into a 31-yard gain against the Bengals.
"Drew has been doing that all camp," said Ryan. "I think he's improved a lot this training camp."
YOUNG DEFENSE MAKING PLAYS …
Desmond Trufant and Robert Alford saw their first professional snaps and combined for four tackles in their first quarter of action. The linebackers had big games against Cincinnati as well, in particular linebacker Paul Worrilow. The undrafted rookie from Delaware posted a game-high 12 tackles.
"Paul has done a really nice job for us," said Smith. "There's been a couple of young guys who have really showed up on the scene through OTA's and through this first preseason game they did some nice things, so it is going to be fun to watch them get more reps and get more reps different times in the games."
Starting middle linebacker Akeem Dent is preparing for an increased role this season.
"Look for Akeem to take the next step in being a three down linebacker," hinted Smith. "That is progression for him, to be able to come in and play three downs."
The Falcons scrimmage the Super Bowl champion Ravens in Baltimore Thursday in the second preseason game of the year.