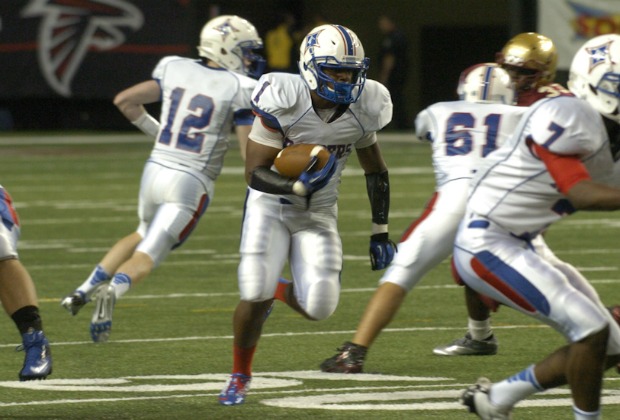 Sonny Kennedy
Walton senior running back and Alabama commitment Tyren Jones was involved in an altercation Friday after school with a teammate in the Raiders' locker room that resulted in a broken jaw for Jones. Sources within the program confirmed to Score that the jaw was broken in two places. Jones's injury will require surgery this upcoming Monday morning.
With signing day right around the corner, Georgia's 2011 Offensive Player of the Year will be in jeopardy of possibly missing the event, which falls just two days following his surgery. Witnesses of the event have met with the Walton administration and have stressed that Jones did not throw any punches and the younger teammate struck first which may keep Jones out of a possible suspension. The rules state that if a student is handed a suspension the student is banned from any extracurricular activities as well. If a three-day or longer suspension is administered, Jones would be held from participating.
Jones had a sprained MCL in November that sidelined him for Walton's final two games. No word on whether the injury is the upper or lower jaw, but both recoveries requires a liquid diet and having the jaw wired shut to heal. The lower jaw is wired for usually two weeks, but the upper jaw repairs are up to six to eight weeks.
Jones is a member of the Walton track team, and the injury could potentially affect his season.