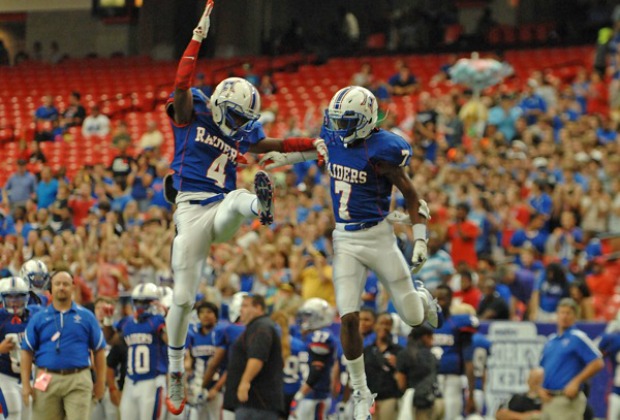 Sonny Kennedy
The Cobb County Touchdown Club held its end of the season dinner at Marietta High School Thursday night to honor the second half of the season's players of the week for each Cobb County school. The occasion marked the conclusion of the regular season and brought the nine Cobb schools together that are set to continue their season's in the state playoffs.
North Cobb was the surprise of last year's postseason as the Warriors battled all the way to the state semifinals before falling to Lovejoy. The Warriors and the rest of Region 4-AAAAAA are looking to add to last year's success and it will start with Lovejoy hosting No. 4 seeded Marietta.
The 2012 postseason began with Marietta upsetting Lowndes 30-27 in the first round, but the following week the Blue Devils ran out of steam and fell to Lovejoy 36-15. Marietta will have an opportunity to pull off a major first round upset for the second straight year if they can top the Wildcats tonight.
Marietta has been prolific on the offensive side of the ball this season and average 40.2 points per game. While this offense tries to expose Lovejoy's traditionally impenetrable defense, Marietta's defense will have its hands full trying to slow down one of the best receivers in the state.
Tennessee-commit and junior Preston Williams stands 6-foot-4 and has scored a long touchdown or multiple touchdowns for Lovejoy in nearly every game this season. Marietta defensive back T.J. Bulock will be one of the defenders responsible for covering Williams.
"We just have to stick to the fundamentals that the coaches always teach, watch our keys and take care of our responsibilities," said Bullock. "We each have our own individual responsibilities and as long as we do them together we will be successful."
Williams will have a six inch advantage over the 5-foot-10 Bulock, but the senior and his teammates have already faced some of the states most explosive offenses with their tough region schedule (McEachern, Hillgrove, North Cobb, Harrison). According to Bulock the safeties and cornerbacks are going to have to continue working together and communicating in order to prevent the big gamechanging plays that Williams can produce.
"We battled them [Lovejoy] last year and they lost a lot of seniors from that team but we also lost a lot," said Bulock. "Each team has had to rebuild and we are looking forward to a great matchup."
While Marietta battles with Lovejoy, Walton will have a first round road test at 9-1 Collins Hill. Walton head coach Rocky Hidalgo's No. 3 seeded Raiders have seen some ups and downs this season, but appear to be playing some of their best football heading into this matchup.
"I think sometimes a football team can be a process and maybe everything we have gone through this year was just part of the process to get us where we need to be," said Hidalgo. "I feel like we are playing good football right now and it is going to give us an opportunity to win."
Collins Hill has lit up the scoreboard this season with quarterback Tyler Herman and running back Tyler Henderson and the Raiders' defense will be needed to pull off an upset of the Eagles.
"I believe defensively our kids are ready to play the game," said Hidalgo. "We have been steadily improving and I feel like we are playing really well on the defensive side of the ball. I feel like we can play defensively with them [Collins Hill] and I will be surprised if we can't."
Class AAAAA Kell is the favorite in its first round matchup, but host a talented Allatoona team that reached the third round of the playoffs a year ago. The 10-0 Longhorns will have to stop one of the best backs in the state in junior Josh Bettistea. Kell starts its lineman and most of its players on both sides of the football and Bettistea has the ability to wear down a defense and could tire out Kell's offense before it goes to work against an average Allatoona defense.
"Our guys will have to stop Allatoona's great running offense and if Bettistea and their backs can control the football it will be tough on our guys who have to go to the offensive side of the ball and block for us," said Kell head coach Derek Cook.
The key for Kell will be limiting a back (Bettistea) that is content with chipping away three or five yard runs for all four quarters and forcing Allatoona into long downs to limit the Bucs' running offense.