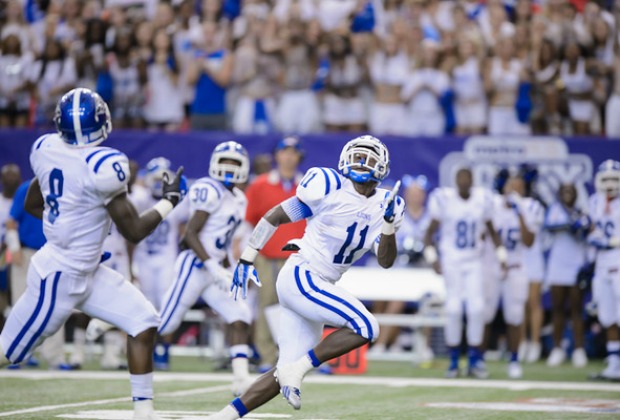 Jon Barash
Peachtree Ridge and Region 7 walloped their Region 5 competition tonight, while Lovejoy and Warner Robins avoided serious challenges by 4-seeds. Check out these recaps and more in our Friday recap.
What had all the makings of a thrilling shootout turned into a one-horse race as visiting Peachtree Ridge pulled away from Lassiter 59-20. A wild first quarter featured five touchdowns, with Peachtree ridge recovering from a 14-7 deficit to lead 21-14. The Trojans treated their fans to a quick start as Will Anderson hit Quincy Perdue with a 37-yard scoring strike to go ahead 7-0 just 23 seconds into the game. Anderson threw three touchdown passes in the first half, two of which went to Perdue. Blake Wilson hauled in the second one from 26 yards out on a fourth-down play. Anderson finished the night 26 of 54 through the air for 299 yards to go along with his three scores.
Success, however, was short-lived for Lassiter. Peachtree Ridge extended its advantage to 38-20 at halftime thanks in part to a streak of 24 unanswered points. Lions' running back Jordan Ellis rushed for 250 yards and four touchdowns in the first two quarters. He shared the wealth enough for Malik Robinson to score on a 14-yard reverse, giving Peachtree Ridge a 28-14 lead early in the second quarter. Ellis' third touchdown came in the form of a 78-yard jaunt to put the Lions ahead 38-14.
Before Ellis and other starters exited midway through the third quarter, he found the endzone on two other occasions to break his own school record and set a new mark of six rushing touchdowns. Ellis wrapped up his effort with 262 yards on 23 carries.
Tyler Campbell also got in on the action for the Lions, catching a swing pass from Chance Thrasher then taking it 65 yards to the endzone. Evan Pantels added a 44-yard field goal midway through the second quarter to extend Peachtree Ridge's lead to 31-14.
Alpharetta 41, South Gwinnett 23: Alpharetta opened up a competitive 17-10 game at halftime to race away from South Gwinnett. The host Raiders were led by Austin King, who threw for 216 yards and three touchdowns. King tossed two of his scoring strikes in the fourth quarter to put the contest out of reach. James Marbaugh hauled in an 8-yard touchdown and Daniel Clements had a 43-yard touchdown reception to make the score 34-16 with six minutes remaining. Rustin Suter caught King's other touchdown pass from 49 yards out in the first quarter.
Archer 34, North Forsyth 7: Quarterback Gabe Tiller was 13-of-16 passing for 127 yards and three touchdowns, and also rushed nine times for 52 yards. Running back Randy Nails rushed 13 times for 115 yards and one touchdown, and Dylan Singleton had one rushing and one receiving touchdown for the visiting Tigers.
Brookwood 35, Lambert 16: Brookwood running back Jesse Brown rushed for 239 yards and four touchdowns, one from three yards out in the second quarter and three in the second half from distances of 56, 49 and 53 yards. Quarterback Joey McLane added a passing touchdown to wide receiver Mike Allen for visiting Brookwood.
Camden County 36, Westlake 7: The host Wildcats posted 290 yards of total offense with five different players crossing the goal line. Antonio Wimbush, Harrison Poole, Tyler Rauls and Antonio Hamilton all notched rushing scores. Kal Bessent added a 73-yard kickoff return for a touchdown. Wimbush led all rushers with 73 yards.
Dacula 36, West Forsyth 31: The host Falcons used two key defensive stands to hold off the Wolverines, who were driving with time on the clock late in the fourth quarter. Bijan Sirleaf led the offense with 137 yards on 14 carries and two touchdown runs. Kelan Fraise also had a big night with 105 yards on six carries, much of it coming on a 71-yard touchdown run.
Hillgrove 41, Alcovy 13: Elijah Ironside completed 14 of 28 passes for 180 yards and five touchdowns as Hillgrove soared over Alcovy. Justin Denton had four receptions for 125 yards and three scores for the host Hawks. Ironside also threw scoring strikes to Omar Black and Richard Hallman. Richardre Bagley added 187 yards and one touchdown on the ground. Alcovy was led by quarterback Tristen Payne, who rushed 22 times for 103 yards and one score.
Lovejoy (Ga.) 27, Marietta (Ga.) 23: Host Lovejoy won a thriller with a last-second 47-yard touchdown pass from Quentarius Neely to Preston Williams. Williams had 275 yards receiving and four touchdowns as the Blue Devils had no answer for him. Ian Shannon hit a 40-yard field goal with 53 seconds left to put Marietta up 23-21, but the Blue Devils' secondary allowed Neely to find Williams one last time.
Norcross 28, Etowah 0: Host Norcross broke a 0-0 tie with 6:33 remaining in the third quarter with a 1-yard touchdown run from Warren McWilliams, and scored shortly after on a 26-yard interception return by Jordan Noil. Norcross scored twice in the fourth quarter, with quarterback A.J. Bush (98 yards rushing) running for a 23-yard score and finding Darian Dennis on a 5-yard pass.
AAAAA
East Paulding 34, Creekview 33: Visiting East Paulding led 34-19 in the fourth quarter before the Grizzlies cut the lead to one with Chandler Wold and Connor Dulmage touchdown receptions. East Paulding was paced by a Mack Coleman first-half rushing touchdown and three second-half Tae Ray rushing touchdowns. Josh Klein added two field goals for East Paulding.
Mundy's Mill 33, Houston County 13 : Chris Lewis started the scoring for the host Tigers with a 75-yard interception return for a touchdown in the first quarter. Rodney Smith totaled 291 yards and three touchdowns in the first half, including an 83-yard touchdown run that gave the Tigers a 27-7 halftime lead.
Richmond Hill 13, Thomas County Central 7: The host Wildcats were opportunistic in their victory. Quarterback Nick Fitzgerald was a perfect 3-of-3 passing for 46 yards. He also rushed for two scores and 150 yards on 20 carries. The Wildcats had numerous leaders on defense, and were led by Logan Ravita who had 15 tackles followed by Zhane Roberts with 14 and Kewan Greene and Nathan Soliata with 12 a piece. Stephen Williamson had an interception and A.J. Vandergrift had two sacks to go along with his 11 tackles. Demetrius Williams also had 11 tackles with a fumble recovery.
South Paulding 48, Sequoyah 21: This game was tied 14-14 at the half, but the host Raiders broke it open in the second half behind quarterback Chandler Banks. Banks had 18 carries for 263 yards and completed 10-of-11 passes for 200 yards. The South Paulding quarterback totaled four touchdowns, including runs of 75 and 53 yards in the fourth quarter.
Stephenson 27, Flowery Branch 7: Dallas Rivers scored twice on the ground for the visiting Jaguars, and Wisdom Nzidee added two field goals. Stephenson jumped out to a 10-0 lead in the first quarter after defensive back Khalil Ladler had an interception return for a touchdown. The Stephenson defense had two interceptions and recovered a Flowery Branch fumble.
Tucker 35, Heritage-Conyers 14: Dominick Sanders scored on an 8-yard touchdown run and had two interceptions, one of which he returned for a 65-yard touchdown. Joseph Farrar tossed two scoring strikes, one to Devin Pounds and another to Joseph Ledbetter. Yaquis Shelley returned the opening kickoff 99 yards for a touchdown for the host Tigers.
Warner Robins 34, Whitewater 27: Warner Robins stopped Whitewater on a fourth-down rush from the 2-yard line with about a minute remaining to secure the win. Quarterback Caden Johnston had three touchdown passes for host Warner Robins, two to Marquez Callaway and one to Tyler Cranford, and rushed for a touchdown in the third quarter.
AAAA
Alexander 13, Dalton 10: Junior kicker Andrew Chandler kicked the game-winning 28-yard field goal for the visiting Cougars as time expired. Dalton kicker Kiko Rodriguez had tied the game at 10 with 3:25 left. Dalton tight end Chase Westfall had the only touchdown for the Catamounts on a 46-yard catch late in the first half.
Carrollton 52, Northwest Whitfield 10: The host Trojans took a 42-7 half-time lead. Carrollton rolled up 395 rushing yards and averaged 9.2 yards-per play. Trey Chivers rushed for two scores while Jarvis Terrell ran for 145 yards and a score. Northwest Whitfield scored its only touchdown when Andy Whisenant took the opening kickoff 98 yards for a touchdown.
Chestatee 41, Grady 13: The host War Eagles stormed back with four touchdowns in the final four minutes of the half to take a 28-13 halftime lead. Tray Bryant scored three touchdowns for Chestatee and Zac Cheshire added another touchdown run. Quarterback Wyatt Burgess also threw a 45-yard touchdown pass for the War Eagles.
Griffin 34, Rutland 0: The host Bears took a 21-0 halftime lead and cruised to an easy win over Rutland. Malik Miller caught a 50-yard touchdown pass and scored on a 10-yard touchdown run for Griffin. Telly Sloan scored the first touchdown of the game for Griffin on a 1-yard run.
Lanier 26, Carver-Atlanta 7: The visiting Longhorns were able to use four interceptions to keep Carver's offense off the field. Grey Lee Williams led the defense with two interceptions. Canyon Cook connected with Devin Valentine on passing touchdowns of 28 and 32 yards. A botched snap gave the Longhorns a 2-0 lead to start the game.
Marist 41, Stephens County 13: War Eagles quarterback Chase Martenson accounted for five first-half touchdowns (three rushing, two passing) as host Marist led 34-7 at the break. Martenson ran for scores of 1, 1 and 39 while passing for 57- and 20-yard scores. Matt Perez ran for a 27-yard score in the third quarter for the War Eagles.
Mary Persons 16, Eagle's Landing 14: The host Bulldogs intercepted a pass on the goal line with four seconds remaining to preserve the second half shutout. The Bulldogs lead 14-7 after the first quarter and their only other score came on an intentional grounding in the end zone with the score tied 14-14 in the second quarter.
Stockbridge 41, Westside-Macon 20: The host Tigers used a balanced offense to coast into the second round. Maetron Thomas had 130 yards on eight carries and rushed for two touchdowns. Quarterback Javon Brandon rushed for two touchdowns and also threw for 110 yards and two touchdowns. Malik Bryan had a touchdown reception and 75 yards on 15 carries and a rushing touchdown.
AAA
Blessed Trinity 41, Jackson County 14: Blessed Trinity running back Chad Manthey rushed 37 times for 228 yards and a 13-yard touchdown, and short-yardage back Carter McManes scored touchdowns of seven, seven and three yards. Quarterback Conor Davis (12 of 13, 173 yards) added a 54-yard touchdown pass to Colin Bradley, and Marc Nolan made two field goals for the host Titans.
Buford 58, Sonoraville 0: Josh Thomas scored on a rushing touchdown and on a 76-yard fumble return for host Buford. Quarterbacks Montgomery VanGorder and Taylor Mitchell combined to complete nine of 10 passes for 111 yards and VanGorder threw a 17-yard touchdown to Terrance Wilson. Buford led 14-0 after one quarter and 35-0 at the half.
Callaway 62, Henry County 28: Eddie Culpepper was a force in the first half, accounting for three rushing touchdowns and close to 200 yards rushing. Culpepper led the host Cavaliers to a 41-14 half-time lead. After recovering a fumble on the first play from scrimmage, Devon Rosser scored on a rushing touchdown. Terry Godwin took a punt 95 yards for a touchdown in the first.
Cartersville 28, West Hall 26: Kwon Williams intercepted Cartersville quarterback Brooks Barden and returned it 80 yards for a West Hall touchdown to cut the Hurricanes' fourth quarter lead to 28-26. West Hall had an opportunity to win, but the Spartans' potential game-winning field goal missed with 10 seconds remaining. Tiamon Pennymon ran in two touchdowns for host Cartersville.
St. Pius 31, Hart County 21: St. Pius got rushing touchdowns from quarterback Joey Connors on runs of 37 and three yards. Connors finished with 12 rushes for 131 yards, and running back Dalton Wilson scored on a 1-yard run and rushed for 141 yards. Ransom Klinger also scored on an 18-yard rush. Visiting St. Pius gained 463 rushing yards.
Woodward Academy 53, North Oconee 21: Elijah Holyfield took over in the third quarter to extend the host War Eagles' lead. Holyfield had 82 yards on 10 carries and rushed for three touchdowns. Quarterback Terry Googer threw for 113 yards and two scores while running for another. Quincy Wolff had three total touchdowns including a kickoff return of 94 yards.
AA
Greater Atlanta Christian 34, Rabun County 7: Quarterback Rafe Chapple rushed for touchdowns of five and 13 yards, and found Chris Williams for a 17-yard touchdown pass. Micah Abernathy led the ground game for host Greater Atlanta Christian with 26 carries for 182 yards and touchdown runs of 12 and five yards. Paul Carothers added a 14-yard rushing touchdown for the Spartans.
Jefferson 28, Westminster 0: Tristen Jackson rushed for two touchdowns and caught a 19-yard scoring strike from T.J. Skelton as Jefferson eliminated Westminster from the playoffs for a second straight season. The host Dragons led 14-0 at the half after a 5-yard touchdown run from Isaiah Blake. Trent Sorrells had an interceptions and Stephen Nguyen recovered a fumble for Jefferson.
Lovett 56, Union County 21: The host Lions led 42-0 in the first quarter as Willie Candler, Grant Haley and Jay Harris each accounted for two touchdowns. Miles Henderson scored on an 8-yard run in the third and Garrett Chapman rushed for a 2-yard run in the fourth for the Lions. Lovett rushed for 384 yards on 35 attempts.
Washington-Wilkes 46, Wesleyan 14: The host Tigers took a 27-7 half-time lead and scored on their first six possessions of the game. Washington-Wilkes quarterback Deandre Harris had two touchdown passes and two touchdown runs. Harris finished off the scoring with a 44-yard touchdown run late in the fourth quarter. Running back Devarious Smith scored on a 33-yard touchdown catch for Washington-Wilkes.
Stephen Black, Joe Deighton, Ricky Dimon, Alex Ewalt, Craig Sager II and Rory Sharrock contributed to this report.