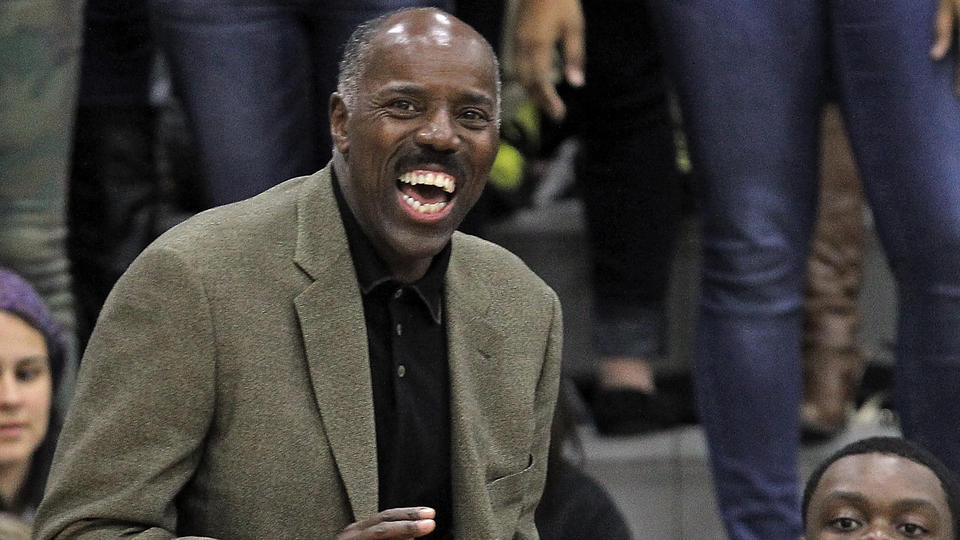 Photo by Matt Stone/Boston Herald
The long awaited decision on who will be Kennesaw State's new basketball coach was finally set in stone this Sunday. Vaughn Williams and company pulled a rabbit out of their hats with the hiring of Al Skinner. The 62-year-old Skinner is the perfect hire on paper for a program that has been one of the worst in the nation since 2010. The Owls needed a proven winner with experience leading young adults. For once in my life I can finally say, I think Kennesaw State got this one right.
Skinner is definitely no spring chicken, but what he does bring to the program is credibility. You can tell it by his look. A toothy smile, nearly completely bald, Skinner has been through some battles as both a player and a coach and expects nothing but excellence. He was a standout at UMass as a player in the early 70s and was subsequently drafted by the Boston Celtics of the NBA, but instead decided to play in the ABA with the New York Nets and Hall of Famer Julius Erving. No knock on Jimmy Lallathin, but he wasn't able to tell his players he went shoulder-to-shoulder with some of the best players the game has ever seen. Skinner even has a shiny championship ring he won in the ABA in his second professional season.
As a coach, Skinner started out as an assistant at Marist and Rhode Island before eventually taking over the head coaching job with the Rams in 1988. There he enjoyed a successful run in the A-10, amassing a respectable record of 138-126 in nine seasons. Skinner landed the Boston College job for the 1997-98 season and began a wildly successful run considering the juggernauts which resided in the Big East and eventually the ACC. In 13 seasons he ran up a record of 247-165 while collecting three Big East regular season championships and one tournament championship.
Kennesaw State, lowly little Kennesaw State who has suffered through a 30-125 record over the past five seasons really just landed a one-time A-10 Coach of the Year, two-time Big East Coach of the Year and the 2001 National Coach of the Year?! Yes, you aren't dreaming, that just happened. The Owls have won just 85 games during their 10 years as a Division One program; take a four-year stretch from 2003-04 to 2006-07 and Skinner won 98 games alone.
If players won't by in now that Skinner is at the helm, they will never buy in. He has sent the likes of Craig Smith, Sean Williams and Jared Dudley to the pros from Boston College. Not all-stars, but all serviceable NBA players played a handful of seasons in the association.
Skinner was fired from Boston College on March 30, 2010. He has been working as an associate head coach at Bryant University who much like Kennesaw State was years ago, in its infancy as a Division I program, transitioning full-time in 2012.
So what's the knock on Skinner? I'm sure you could take a few guesses, but one major one is that he is old and won't recruit the area like he should. It's a decent argument, but I doubt that the former National Coach of the Year is leaving from the comforts of the Rhode Island area to come to Kennesaw to just collect a check and cash it in. Sometimes there is a thing called pride that can push old veterans to the peak of their game. Surely Skinner won't want to end his career with a flop.
The Boston Globe's Bob Ryan highlighted a lazy Al Skinner back when he was fired from Boston College, stating he was too casual. However, in a Boston Globe article early last year, Providence Head Coach Ed Cooley said the fire is back.  "You could tell he missed it," Cooley said. "He's dying to coach again." Cooley also added, "For Al Skinner not to be a head coach is a travesty to college basketball. It is crazy how he's not a head coach somewhere."
Time will tell if this hire was correct or not. If it is a homerun, Kennesaw can finally host a basketball program they are proud of. If not, the program will continue to rem