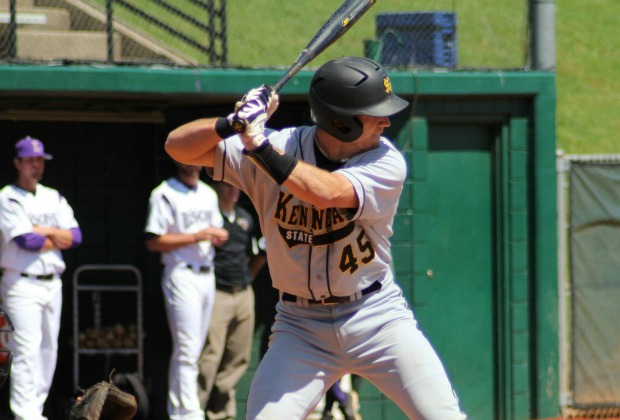 Kennesaw State Sports Information
Baseball season is right around the corner and the Owls are looking to build on what they did in 2012.
With 22 lettermen returning, the Owls have the depth to compete for the Atlantic Sun title. Andy Almonte was named to the preseason all-conference team after hitting .295 with 11 doubles, 49 runs scored and a .411 slugging percentage. Other players to watch for are pitchers Steve Janas and Kevin Kyle and senior captain Peyton Hart, who scored 32 runs and stole 14 bases last year.
MAULED BY MERCER …
It has not been a fun season for the men's basketball team, but the Owls were looking to do something they haven't done all season: sweep a season series against a conference rival.
The Owls took on Mercer for the second time this season last Friday and they were looking to sweep the season series against the Bears. That did not happen as Mercer recorded a 66-42 victory over the Owls.
For the first time this season, the Owls did not have a player score in double-digits. Nigel Pruitt led the Owls with nine points while Aaron Anderson recorded 11 boards and four points.
The Owls take on North Florida at the Convocation Center on Thursday. They will have another home game on Saturday when they face Jacksonville at 2:30 p.m.
SLOW FINISH …
The women's basketball team also did not fare well against Mercer, losing 57-36 down in Macon. The Lady Owls led by six early in the first half, but the Lady Bears woke up and led by four at halftime.
At the start of the second half, the Lady Bears went on a 10-0 run and the Lady Owls could never muster any offense to make a comeback.
"We just couldn't get the game plan working in the second half like we did in the first," head coach Nitra Perry told ksuowls. com. "As with any game plan, they started getting comfortable and finding the holes in our defense and we needed to adjust and we didn't do as good a job as they did at tweaking the plan."
The Lady Owls will look to bounce back on Saturday as they face Jacksonville at noon at the Convocation Center.