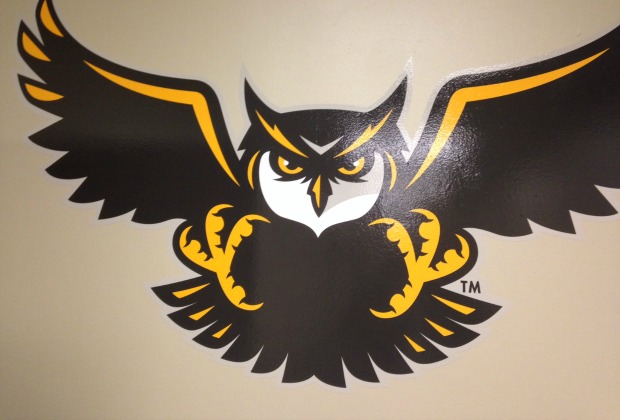 Brian Jones
The process of building a football team continues as head coach Brian Bohannon has completed the schedule for the inaugural season in 2015.
The Owls had 10 opponents set for the 2015 season at the beginning of the month, but recently added Cumberland to finalize the schedule. Cumberland currently plays in the NAIA as a member of the Mid-South Conference. It is waiting for admission by the NCAA to transition to Division II and play in the Great Midwest Athletic Conference. The Bulldogs posted a 7-4 record last season. The Owls will play Cumberland in Lebanon, Tenn.
The 11-game schedule will include six home games and five road games. The Owls will kickoff the 2015 season with a road trip to East Tennessee State on Sept. 3 which is a Thursday. ETSU is bringing back football after ceasing operations after the 2003 season.
That game along with the game against Cumberland are two games of the Owls' five-game non-conference schedule, which also includes Edward Waters (Sept. 12), Paine (Sept. 19) and Point (Oct. 10.).
The Owls' first ever home game will be played on Sept. 12 when they face Edward Waters at Fifth-Third Bank Stadium. KSU will be an associate member of the Big South Conference and will open conference play Oct. 17 when they host Gardner-Webb. The Owls will also host Monmouth (Oct. 31) and Charleston Southern (Nov. 7). Their road conference games will include Liberty (Oct. 24), Coastal Carolina (Nov. 14) and Presbyterian (Nov. 21).
For fans who want to purchase season tickets, there are less than 800 left. In order to purchase season tickets, fans should fill out a Letter of Intent along with a $20 per-seat refundable deposit to become part of the Priority Seat Program. Season tickets are priced at $99.
Here's a full look at the Owls' 2015 schedule. Bold indicates home game and asterisk indicates conference game.
Date      Opponent           Time                                             
Thu., Sept. 3       at East Tennessee State                7:30 p.m. (ET)
Sat., Sept. 12      EDWARD WATERS           TBD
Sat., Sept. 19      PAINE   TBD
Sat., Sept. 26      Bye
Sat., Oct. 3          at Cumberland  TBD
Sat., Oct. 10        POINT   TBD
Sat., Oct. 17        *GARDNER-WEBB           TBD
Sat., Oct. 24        *at Liberty          TBD
Sat., Oct. 31        *MONMOUTH      TBD         
Sat., Nov. 7         *CHARLESTON SOUTHERN          TBD
Sat., Nov. 14       *at Coastal Carolina        TBD
Sat., Nov. 21       *at Presbyterian              TBD