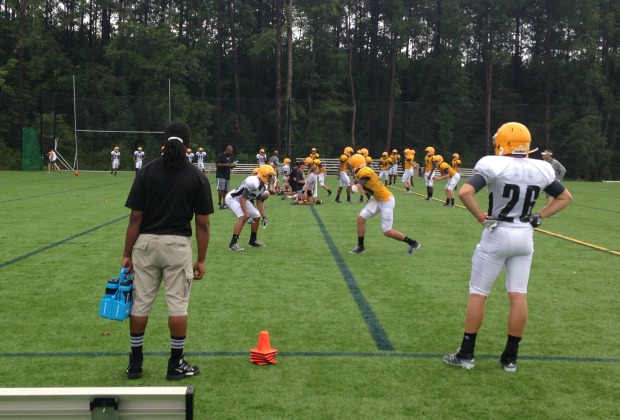 Brian Jones
Historic, groundbreaking and first are just a few words that have been used by the KSU football team over the last year. It was no different this past week as they completed their first set of practices.
The team has been together for the last three weeks conditioning and weight training. But they got together in helmets and jerseys on Monday and went through a 90-minute session that featured team and individual drills. It was the same situation on Wednesday but the players were in shoulder pads and did a little more hitting.
But Friday was the day everyone was waiting for, the players were in full pads for the first time and they started the practice with the Oklahoma drill. The players were so fired up a little scuffle broke out during the drill.
"We call it Owl Time," head coach Brian Bohannon said after the Friday practice. It's really a toughness drill. You can tell there was a lot of intensity."
After the opening drill of practice, the players went though team and individual drills just like on Monday and Wednesday. And all the practices were intense and had a fast tempo, which is something that Bohannon envisioned before the players arrived on campus a month ago.
"We're all about maximizing our time," Bohannon said. "It started with our condition drills. We set the bar with that and it just translated to how we wanted to practice. The tempo is not where we wanted yet, but it's drastically improved from Monday."
The reason the team is all about maximizing our time is the fact they are preparing for their first scrimmage which is set for Oct. 11.Druing the first week of practice, the players did not scrimmage against each other as they were split into offense and defense. But they are working to get where they can work against each other, which should begin next week.
"Every day is a learning day," freshman safety Taylor Henkle said. "There are some days where we struggle in some aspects of it. But every day we have seen improvement. We'll continue everyday to work on the little things and we'll go from there."
So with the team practicing after spending the first few weeks conditioning, they are now working to not only prepare for the scrimmage, they are getting ready for the spring game in March and the first game of the 2015 season which is less than a year from now. And everything they do is an evaluation process for the coaching staff.
"Each day we are going to progress," Bohannon said. "When you have this many practices in the fall and you really don't have a game, each day we sit back and evaluate. This is a unique situation. We take each day and evaluate."
The scrimmage is set from a 3:00 p.m. start at Fifth Third Bank Stadium. It's all part of KSU's homecoming weekend. The spring game is set for Mar. 28 2015 and that will also take place at Fifth Third Bank Stadium.