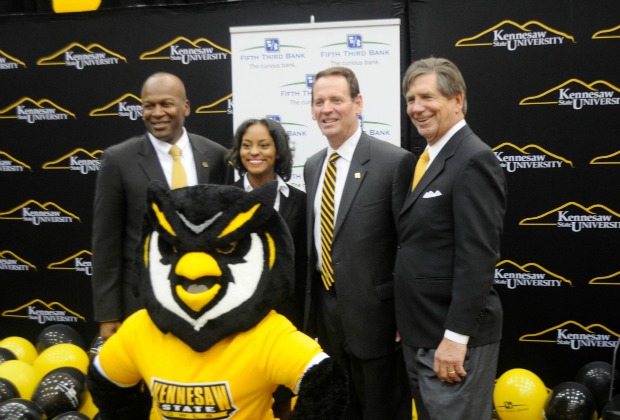 Walter Pinion
Underneath all of the regalia and grandeur of today's monumental announcement is a program with the potential to unite an ever growing university. Kennesaw State University is abuzz today over the formal presentation of the Owl's football team that has been whispered about for so long. As a school on a fast ascent to the top echelon of major universities in the state of Georgia, KSU was in need of a unifying force to connects the current students with each other as well as those who came before them.
As mentioned by President, Daniel S. Papp, the university's focus over the next few years is going to be developing relationships with those who have gained the most from the institution. This starts with the football program, giving the current and former Owl's a team to get behind on Saturday afternoons in the Fall. Once established a football team is hoped to create a sense of pride for a university that is usually overlooked by UGA, Georgia Tech, and the other major college sports teams and universities in the South.
This dream began in March 2006 when feelers were put out by the university to judge the feasibility of such an endeavour. When positive results returned President Papp began to put the necessary actions in motion. Those actions lead to today and will hopefully culminate in the Fall of 2015 when KSU plans to play its first game.
While there are sure to be bumps in the road, and trying times in the future, this program should establish a bright future for a university on the rise in academics, attendance, and now athletics. The path is not completely clear for the program to take off since a coach is still needed, and a nationwide search is in the works to find the right man for the job. Now the countdown begins for the inaugural Owl's to take the field at Fifth Third Bank Stadium and go to battle for their beloved Kennesaw State University.