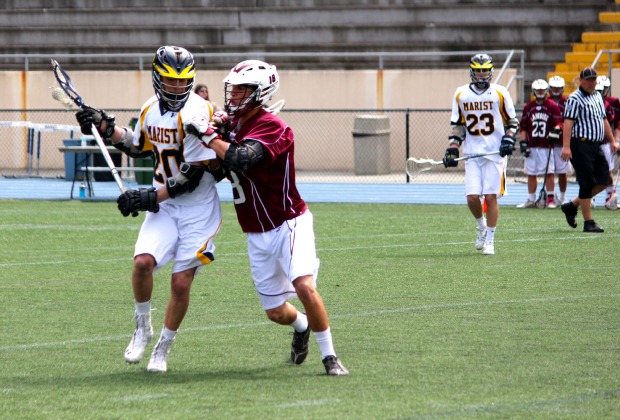 Boys
Class AAAAAA
1. Milton
2. Harrison
3. North Gwinnett
4. Walton
5. Lambert
6. Centennial
7. Peachtree Ridge
8. Roswell
9. Hillgrove
10. John's Creek
In Class AAAAAA, No. 2 Harrison, No. 4 Walton and No. 9 Hillgrove were off this past week for spring break. No. 1 Milton defeated Roswell 12-8 on Tuesday before scoring a 10-8 victory over Gulf Coast (Fla.) on Friday. The top-ranked Eagles lost to St. Thomas Aquinas (Fla.) on Saturday 19-13. No. 3 North Gwinnett improved to 12-0 with a 9-3 victory over Collins Hill. No. 5 Lambert beat Bolles (Fla.) on Monday 16-5. Peachtree Ridge moved to No. 7 with a 18-10 win over Etowah and Roswell dropped to No. 8 after a loss to Milton.
Class A-AAAAA
1. Northview
2. Westminster
3. Lovett
4. Greater Atlanta Christian
5. Whitefield Academy
6. Blessed Trinity
7. Pope
8. St. Pius X
9. Decatur
10. Cambridge
No. 1 Northview cruised to wins over Gainesville (20-2), Wesleyan (18-3) and Bartram Trail (Fla.) (13-7) to move to 12-0 on the season. No. 2 Westminster won a 7-6 battle with No. 3 Lovett. Blessed Trinity lost in overtime (8-7) to Cambridge and dropped to No. 6 while the Bears debut at No. 10. Decatur also debuted in this week's poll at No. 9 after its 12-8 victory over Marist on Friday.
GIRLS
Class AAAAAA
1. Milton
2. Lassiter
3. Walton
4. Chattahoochee
5. Mill Creek
6. Etowah
7. Centennial
8. West Forsyth
9. John's Creek
10. Lambert
No. 1 Milton and No. 2 Lassiter each split out of state double-headers on Saturday. Milton dropped Game 1 11-4 against undefeated (12-0) Sts. Stephen's & Agnes (D.C.), before winning its second game 7-6 over previously-unbeaten Good Counsel (Md.). Lassiter topped Ensworth (Tenn.) 14-13 in its Game 1, but fell to undefeated Hutchinson School (Tenn.) 13-12 in the backend of the double-header. No. 3 Walton dominated Roswell 24-11 on Monday and No. 4 Chattahoochee held off North Gwinnett 10-9. Mill Creek moved up to No. 5 in this week's poll after earning its third straight win on Thursday (20-1 over Parkview). Mill Creek lost to Hutchinson (Tenn.) 11-10 last week, the same out-of-state team that defeated No. 2 Lassiter by one goal on Saturday. West Forsyth moved up to No. 8 and Johns Creek dropped to No. 9 with its 16-9 loss to Centennial on Thursday. Lambert enters this week's poll at No. 10 replacing North Gwinnett, which lost to the Longhorns 9-4 two weeks ago and Chattahoochee (10-9) and Collins Hill (15-13) this past week.
Class A-AAAAA
1. Kell
2. Westminster
3. Northview
4. Pope
5. Cambridge
6. St. Pius X
7. Blessed Trinity
8. McIntosh
9. Starr's Mill
10. Marist
No. 1 Kell was off this past week and Westminster remains at No. 2 after notching a 20-6 victory over North Paulding on Wednesday. McIntosh lost its first game of the season on Tuesday to Blessed Trinity 19-14. The loss dropped the Chiefs to No. 7 behind St. Pius, which defeated Blessed Trinity 12-11 on Thursday. Starr's Mill moved up to No. 9 with a 19-2 win over Pace Academy and a 19-5 victory over Whitewater this past week. Wesleyan dropped out to No. 10 suffering its third loss in the last four games (14-4 to Lovett) and Marist debuts at No. 10.