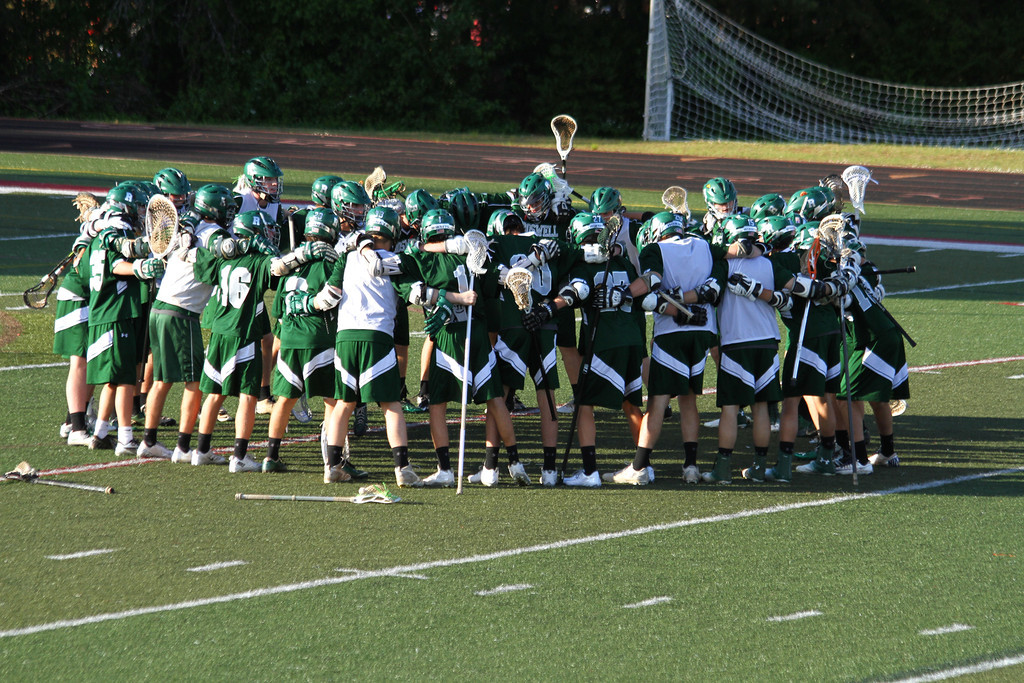 Photo by Roswell Hornet's Lacrosse
Both Class AAAAAA lacrosse state titles will return to Area 2 after all four finals berths were swept for a second straight year.  The Walton and Milton girls prepare for a rematch of last year's finals, while the defending boys state champion Roswell Hornets face a gritty Pope Greyhounds team in the program's first year in Class AAAAAA.
Roswell is a senior-driven team that has won its three playoff games by an average of 9.3 goals per game. The Hornets followed up victories over Northview (15-5) and Mill Creek (16-9) in the first two rounds with a 15-4 semifinal victory over Etowah and showcased their experience as seniors accounted for 12 of the 15 goals. Pope's run to the finals has not been easy, but the Greyhounds were not given any favors when the bracket was set. Pope upset top-ranked Lambert 7-6 in overtime in the first round and held off North Gwinnett 11-8 in the quarterfinals before powering through Harrison 13-7 in the semis. Roswell opened its season with Pope on March 3 at home and notched a 16-8 victory.
The Milton girls' reign in lacrosse can reach another milestone on Saturday as the Eagles search for a 10th state title in the sports' eleven years of handing out championships. A 9-7 loss to Chattahoochee in the 2009 title game is the only crown that Milton has not taken home and that defeat six years ago marks the last time that a Georgia school was able to beat the Eagles. Walton has challenged Milton as well as any team in the state over the years and gave them all they could handle last year in a 16-13 defeat in the finals. With only two seniors on this year's Walton roster, the Raiders will have to show the same level of maturity they did in the semifinals as they dominated time of possession and stymied Lassiter 8-5.
A-AAAAA
The Westminster boys are on a record-setting pace entering a championship showdown with rival Lovett and received a seven-goal scoring performance from Blake Davis as they cruised past Cambridge 13-1 in the semifinals. After outscoring Blessed Trinity and Benedictine by a combined 31-1 in the first two rounds, Westminster now holds a 44-2 scoring edge entering Saturday's finals matchup with the Lions.  Lovett is battle-tested and has impressed while facing top teams all year. Lovett opened the season with a 12-11 victory over Johns Creek and all three of its instate losses were by just one goal (Lambert 12-11, Centennial 15-14 and Westminster 7-6).
The girls A-AAAAA title game will be a rematch of last year when Kell used an 11-10 win over Westminster to become the first-ever Cobb County girls team to take home a lacrosse state title. Kell cruised through the first two round of this postseason but had to battle past Cambridge 15-13 on Wednesday to stay alive. Kell trailed 8-7 at the half and 11-8 in the second half, but six goals by Leslie Ferguson and a four-goal, six-assist performance by Haley Swift were enough to hand Cambridge its first instate loss of the season.
Westminster stared at a two-goal deficit and needed two scores in the final two minutes to force overtime against Blessed Trinity in the semis. In the extra period, the game was locked at 10 until Elizabeth Zakas netted the game-winner at the final second to advance Westminster to the A-AAAAA title game for the sixth time in the last six years. Westminster had taken all the previous Class A-AAAAA titles before Kell etched its name last year, so if you add up the shared titles between the four girls teams playing in Saturday's two finals, they would account for 14 of the 15 all-time championships.
SCHEDULE
Saturday, May 16
Class AAAAAA
Boys: Pope at Roswell (7 pm)
Girls: Walton at Milton (5 pm)
Class A-AAAAA
Boys: Lovett at Westminster (3 pm)
Girls: Westminster at Kell (3 pm)