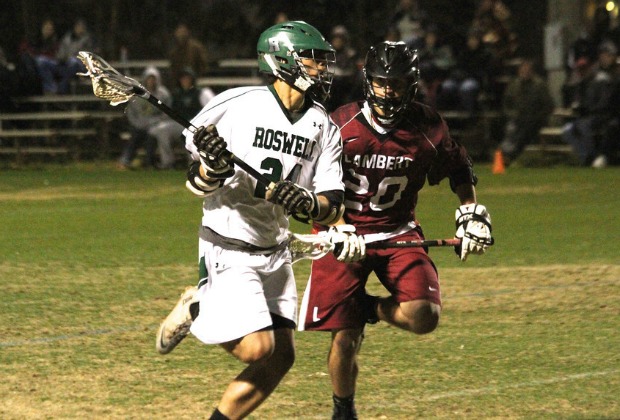 Photo by David Weaver
Boys AAAAAAA
Defending Class AAAAAA state champion Roswell jumped to an 8-2 halftime lead after outscoring visiting Etowah 5-0 in the second quarter cruised to a convincing 15-4 victory. Roswell's senior goalkeeper Alex Lynch had six saves and the stout defense combined with the Hornets' team speed led to a barrage of scoring opportunities Etowah could not find an answer to.
Senior Preston Tippett scored Roswell's first goal and was one of five Hornets to record multiple goals in the game. Junior Jack Piggott put Roswell up 3-2 at the end of the first quarter and was the only player on Roswell's roster that scored a goal that will not be graduating in the next month. Piggott's impact was felt throughout the game and he added back-to-back goals to close out the third quarter and give Roswell a 12-3 lead, while stamping the semifinal hat-trick. Andrew Thomas finished with a team-high four goals and included a dagger with five seconds left in the first half. Garrett Blake, Tanner Schneider and Tippett each added a pair of Roswell goals and Ward Gregory and Will Beacham finished with one apiece.
Pope 13, Harrison 7: Pope built an 8-5 halftime lead and opened the second half with a goal by Josh Wells and back-to-back Zach Lynch scores to grow a comfortable 11-5 lead. The Greyhounds would take a 11-6 lead into the final quarter and extend the lead to 13-6 with goals by Steven Runge and Tyler Borko. With the victory Area 2 swept the final berths in both boys and girls for the second straight year.
Girls A-AAAAA
Kell 15, Cambridge 13: Defending champion Kell was down 8-7 at the half and stared at a three goal deficit in the second half (11-8) before rallying back into the Class A-AAAAA finals for a rematch with Westminster. Leslie Ferguson led Kell with six goals and Haley Swift added a hat-trick but was able to notch a game-changing four assists. Talen Francis also finished with three goals, including a netter off the opening draw 19 seconds into the game. Izzy Palermo added two goals and Jennifer Buckley finished with one goal, but it was a huge one that put Kell up 15-13 and finally gave them somewhat of a cushion in a then two-possession game. Goalie Hannah Rosen finished with eight saves but it was the final two minutes of the game that were her best and reminiscent of last year's 12-11 thriller over Blessed Trinity in the semis as Rosen made a pair of huge saves to protect the lead.
Westminster 11, Blessed Trinity 10 (OT): Westminster was down two goals with two minutes left before forcing overtime and the game was locked at 10 before Elizabeth Zakas netted the game-winner with just 0.3 seconds left in the extra period. Westminster advances to the A-AAAAA title game for the sixth time in the six years of its existence and will face defending champion Kell on Saturday, the only team to beat the Wildcats in their five other A-AAAAA finals appearances.