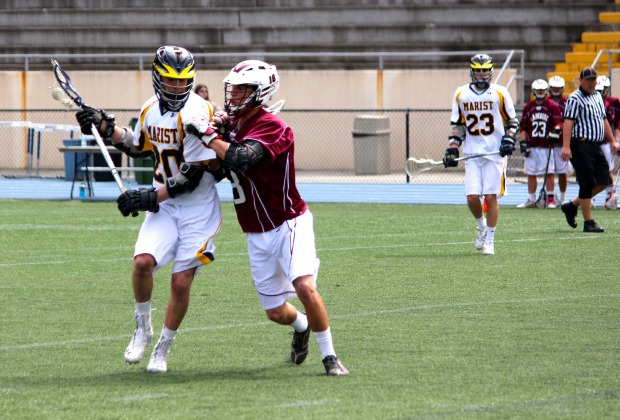 In Class AAAAAA, the Johns Creek boys remain No. 1, despite a 16-6 loss to Tennessee powerhouse McCallie on Saturday. No. 2 Centennial was off this weekend and owns an 11-1 record, however, the Knights' 16-6 loss to Johns Creek on March 6 keeps them behind the Gladiators. The rest of the Class AAAAAA top 10 was off for spring break.
Class A-AAAAA No. 1 Westminster held on to beat No. 2 Lovett 7-6 on Saturday. No. 3 Allatoona fell to McCallie (the same school that beat No. 1 Johns Creek 16-6) 13-8 on Saturday. No. 4 Cambridge and No. 5 McIntosh were off this weekend. Marist, which rides a six-game winning streak made the biggest move in the polls and jumped to No. 6. Benedictine beat Marist 9-8 in overtime last month, but dropped back-to-back out of state contests before rebounding with a 13-6 win over Decatur on Saturday. Greater Atlanta Christian fell two spots to No. 8 after a 9-6 loss  to Marvin Ridge (NC) and 9-8 loss to Charlotte Christian (NC) this weekend. Wesleyan and St. Pius come in at No. 9 and No. 10, respectively.
Class AAAAAA No. 1 Milton girls scored a thrilling 14-12 double-overtime victory over Georgetown Visitation (DC) before falling in the backend of its double-header to 13-0 Sts. Stephen's & Agnes (DC) 13-12. No. 2 Walton topped Etowah 19-6 last Tuesday and No. 3 Lassiter enjoyed the week off after falling to three out of state opponents last week. The Trojans remain undefeated against instate opponents heading into Tuesday's matchup with Etowah. North Gwinnett leapt past Northview for No. 5 and Pope settles in at No. 7.  Mill Creek, Harrison and West Forsyth were off this weekend and still hold down the final three spots in the top 10.
Class A-AAAAA No. 1 Cambridge was off this weekend and No. 2 Westminster pummeled Darlington 21-2. Blessed Trinity, Kell and St. Pius were off and No. 6 Creekview extended its win-streak to 10 games last Wednesday with a 10-9 win at Cherokee.
BOYS
Class AAAAAA
1. Johns Creek
2. Centennial
3. Lambert
4. Roswell
5. Pope
6. Mill Creek
7. North Gwinnett
8. Lassiter
9. Harrison
10. Northview
Class A-AAAAA
1. Westminster
2. Lovett
3. Allatoona
4. Cambridge
5. McIntosh
6. Marist
7. Benedictine
8.  Greater Atlanta Christian
9. Wesleyan
10. St. Pius
GIRLS
Class AAAAAA
1. Milton
2. Walton
3. Lassiter
4. Chattahoochee
5. North Gwinnett
6. Northview
7. Pope
8. Mill Creek
9. Harrison
10. West Forsyth
Class A-AAAAA
1. Cambridge
2. Westminster
3. Blessed Trinity
4. Kell
5. St. Pius
6. Creekview
7. River Ridge
8. Sprayberry
9. Wesleyan
10. Lakeside-Evans