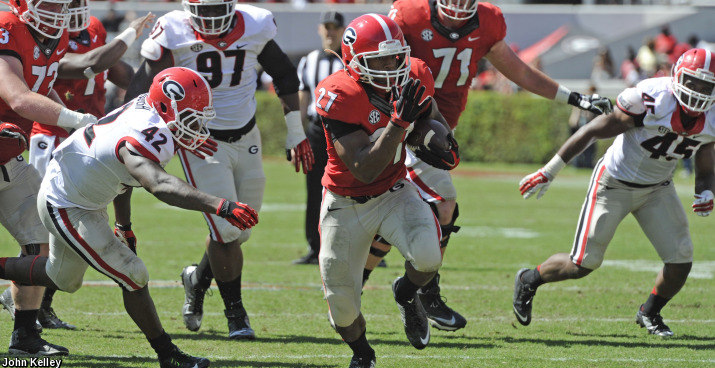 GeorgiaDogs.Com
The fans and media got their extended look at the 2015 Georgia Bulldogs, with their annual spring game Saturday afternoon inside Sanford Stadium. Like all of the spring, there was some good and some not so good things to be seen on the field.
This game saw some big plays deep in the passing and running game. The defense was able to make stops in the backfield and cause turnovers. Plus, we even got to see a little of Nick Chubb on the field in game situations.
They were relatively able to stay out of injury trouble, although it does look like sophomore wide receiver Isaiah McKenzie could be out for the rest of the spring with a hamstring injury.
After the game, head coach Mark Richt talked about how tough it is to gauge how your team looked in a scrimmage.
"You know it's so hard to try to judge what kind of day it was when you're going Georgia against Georgia," Richt said. "You're working your first, second, and sometimes your third units. It's just a lot of guys getting a lot of reps and it's hard to look super sharp at that time, when in reality we're only trying to get one group of 11 on the field at a time on each side of the ball as we go along."
Richt admits that it was tough to get a good impression of the spring game, because he was missing some of the action to do on-air interviews with the tv and radio crews calling today's game. With the quarterback race being so closely scrutinized by the coaches, fans, media, and others interested. People want to know what Richt thinks about the battle.
"This was a practice," Richt said. "It was a practice game, but it was a practice. Mistakes are made in practice and then you correct. If anybody's ever mastered a skill, they usually do it, make a mistake and adjust. Do it, make a mistake and adjust. Make a mistake, correct  it and little by little you get to where you don't make many. But, even the greatest pro quarterbacks still throw picks, still throw bad balls, and make bad decisions. You just can't make a bunch of them and expect to win a job."
Ramsey started the day as the first team starter, to finish three out of six completions for 138 yards and one 72 yard touchdown pass to McKenzie. 16 of 25 for 171 yards and a touchdown pass to Jordan Davis. Jacob Park goes 10 of 15 for 92 yards with one interception.
Another position that is being closely supervised, is the battle to win the starting center spot. Saturday and pretty much all spring, sophomore Isaiah Wynn had been practicing with the first team. He was looking to prove some things on Saturday.
"I think I accomplished showing that I can play center," Wynn said. "Of course I still have to fix some technique problems that I had along today."
Wynn's having to prove that he can play center, because it was towards the end of last season when the Bulldogs started to work him out at the position. Prior to that, he had never played that spot.
On the defensive side of the ball, it is the outside linebackers that seem to be making a name for themselves this spring. One in particular has been Lorenzo Carter. The sophomore from Norcross was pleased with his day at Sanford Stadium.
"Me and Jordan (Jenkins) were in the locker room at half time talking about we need to stop running into each other trying to avoid (hitting) these quarterbacks," Carter said. "I think me and Jordan are going to get in the backfield a lot."
Carter finishes with four tackles and a sack for G-Day 2015. Jordan Jenkins as he mentioned also had a huge performance with two and a half tackles for a loss, plus a sack of his own.
Jenkins is going into his final year as a Bulldog and thinks that Saturday was a strong day for them on defense. He thinks two factors are providing them with the chance to succeed.
"I do feel like we're reacting to things a lot quicker than we were in the past," Jenkins said. "One is because we know the playbook and coach (Jeremy) Pruitt has widened or expanded our knowledge of the game of football. The second thing, is also that we're in a hell of a lot better shape than we were last year at this point. Combining those two just opens up many possibilities for us."
We were even able to see Nick Chubb play a little today at running back. However, his action was limited to primarily playing on third downs. He was able to finish with three carries for 34 yards, including a 17 yard touchdown run. He also showed that the receiving game is in good form, with three catches for 23 yards.
This is not the end of spring for the Georgia football team. They'll go through two practice's this week before closing up formal on-field work for the summer.