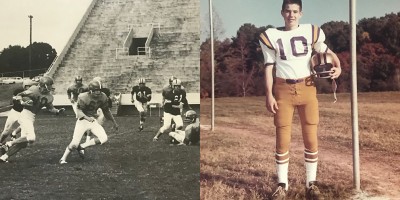 Thirty alumni, former coaches and faculty members will be inducted into the Lakeside High School Sports Hall of Fame as its inaugural class on April 27, 2019. Representing a cross-section of sports, and the highpoints of the school's 55-year history of athletic achievements, the inductees will be celebrated with a red-carpet ceremony where they will receive a Hall of Fame jacket, medallion and plaque.
The ceremony will be held at Lakeside High School. Inductees will place their plaques on the school's newly created Hall of Fame wall, and all of the inductees, or the families of those who are no longer present, are expected to be in attendance for the historic night.
The group of 30 features 11 football inductees, which includes coaches Wayman Creel (1970-82), Dave Redford (1970-93) and Phil Lindsey (1972-97). Lakeside's first-ever state championship-winning quarterback Jack Fuqua (Class of 1971), Spencer Nelms (1981), Greg Davis (1982), Mike Johnson (1973), Jack Bowen (1973), Ed Butler (1972), Jack Jones (1969) and Dick Conn (1969) will be going in as former football lettermen.
Pete Fusi (1973), a former Georgia Bulldog and DeKalb County's record-holder for most rebounds per game in a season (17.3) is going in for basketball. Tennis standout Lianna Bebeau (1984), track and field star Robbie Horton (1975) and former wrestler Bryan Carlisle (1983) join Fusi as the first inductees of their respective sports.
Long-time soccer coach Jim Mitchell (1973-2003), brothers and former state champions Tom Manget (1971) and John Manget (1975) and All-American Lane Kenworthy (1982) will be inducted. Cross Country coach Eddie Robert (1971-2005) and four-time All-American Joe Thorne (2002) are also included in the inaugural group.
The other inductees include: Former Major Leaguers and Vikings baseball teammates Gene Ammann (1967) and Ron Cash (1967); Former swimming coach Avalee Spinks (1977-2002) and Renee Loisel (1972), who won six total swimming state titles with the Vikings; NIAAA Hall of Famer and former Lakeside Gymnastics coach Lucia Norwood (1970-75) will be inducted with Jeff Morrison (1974), Barbara Hall (1976) and Karen Loewen (1982). Also, John Kicklighter, former principal of Lakeside-DeKalb from 1971-84, will be inducted as a supporter for his key role in establishing the Vikings' proud culture of athletic and academic excellence.
Tickets are $35 for adults and $20 for children (12 and under) and can be purchased by Clicking Here.