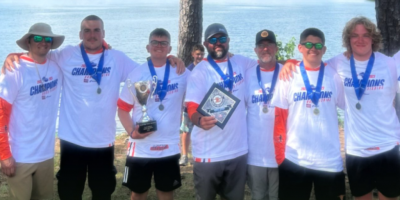 It was a marathon day to bring the state's third bass fishing season to a close Saturday on Clarks Hill Lake in Appling and two anglers from Lanier found answers, and fish.
Beginning with the boat launch at 6:15 a.m. when anglers took to the water, and ending with the weigh-in at 3 p.m., Lanier was able to catch the five best fish to win the program's first GHSA Bass Fishing State Championship.
Longhorn anglers Bryson Dover and Angel Cornejo caught 20 pounds, eight ounces worth of fish to lead second-placed King's Ridge by just over four pounds and third place Dawson County by two ounces more. King's Ridge caught 16 pounds, seven ounces with their five fish and Dawson County had 16 pounds, five ounces.
The event began in 2021 at Lake Lanier and anglers Jayden Faulkner and Davis Madden of Evans finished atop the inaugural field of competitors. Last season, Bainbridge anglers Shane Dill and Bowyn Brown topped the field to capture the second-ever bass fishing state title.
Clarks Hill Lake, also known as Strom Thurmond Lake, delineates the border between Georgia and South Carolina and was created in 1951 with the construction of the J. Strom Thurmond Dam near the confluence of the Little River, Savannah River and the Broad River. It is the third-largest artificial lake east of the Mississippi River.