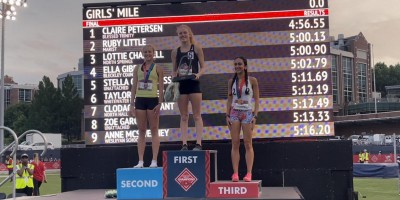 The state's most accomplished athletes from the 2023 track and field season competed at Georgia Tech's Griffin Track and Field Facility Saturday night for the third annual Wingfoot Night of Champions. Just one weekend after helping lead Hughes to a historic first-ever team state title in Class 6A, Panthers sophomore standout Maurice Gleaton took first in the 100 meter with a new meet record time of 10.47. Sanaa Frederick's 11.50 also set a new met record on the girls side. History was made in the boys 200-meter dash with Clarke Central's Shavique Bascus clocking a 20.89 finish for a new meet record.
Southwest DeKalb's Xzaviah Taylor closed out his phenomenal track season with a meet record 36.36 finish in the boys 300-meter hurdles and Marianna Wright clocked a 40.97 top finish and meet record. The boys mile race was one of the night's most star-studded events with seven state championship runners, two state runner-ups and a third-place finisher in the finals. Illegal contact forced a restart after the first 100 meters and once the runners got reset, Marist sophomore Tommy Latham took first place with a 4:11.49 finish.
Jaci Wright finished third in the girls 100-meter hurdles and also set a meet record in the long jump with a 19-8.00. Ohio State-signee and Woodward Academy senior Olivia Powell took first in the 100-meter hurdles with a 13.78. Tennessee signee and Lovejoy senior Kalib Branch won a star-studded 110-meter hurdles field with a season-best time of 13.73.
The other meet records set on Friday were Skylar Soli's 47-4.50 in the girls shotput and Isis Symone Grant's 2:06.08 in the girls 800 meters. The boys pole vault saw five individuals clear the 15-7.00. All of the top finishers are listed below.
Wingfoot Night of Champions 2023 Top Finishers
100 Meter Dash: (BOYS) 1. Maurice Gleaton, Hughes, 10.47, 2. Eric Singleton, Alexander, 10.48, 3. Shavique Bascus, Clarke Central, 10.52 (GIRLS) 1. Sanna Frederick, Druid Hills, 11.50, 2. Ryan Davis, Hillgrove, 11.61, 3. Keira Beaumont, North Cobb, 11.82
200 Meter Dash: (BOYS) 1. Shavique Bascus, Clarke Central, 20.89, 2. Maurice Gleaton, Hughes, 21.04, 3. Sidi Nijie, Westlake, 21.20 (GIRLS) 1. Sole Frederick, Druid Hills, 23.53, 2. Taylor Gullatte, Landmark Christian, 24.21, 3. Chelsea Williams, Woodward Academy
400 Meter: (BOYS) 1. Therrian Alexander III, SW DeKalb, 46.92, 2. Braeden Ofosu-Kwarteng, Whitewater, 47.40, 3. Brady Daniels, Grayson, 48.08 (GIRLS) 1. Tyler Lowe, 53.58, 2. Malia Campbell, Landmark Christian, 54.83, 3. Sydney Glee, Woodward Academy, 55.92
800 Meter: (BOYS) 1. Chance Jones, Dacula, 1:50.71, 2. Andrew Balogh, Etowah, 1:51.33, 3. Justin Warner, Fayette County, 1:53.44 (GIRLS) 1. Isis Symone Grant, 2:06.08, 2. Oluwatosin Awoleye, 2:08.06, 3. Kenyah Conner, Woodward Academy, 2:10.35
Mile: (BOYS) 1. Tommy Latham, Marist, 4:11.49, 2. Simon Schabort, 4:13.80, 3. Luke Churchwell, Bleckley County, 4:14.35 (GIRLS) 1. Claire Peterson, Blessed Trinity, 4:56.55, 2. Ruby Little, Marist, 5:00.13, 3. Lottie Chappell, North Springs, 5:00.90
3200: (BOYS) 1. Jackson Hogsed, Lambert, 9:17.13, 2. Aaron Brodrick, Oconee County, 9:23.30, 3. Kushan Patel, 9:24.11 (GIRLS) 1. Georgy Helmers, St. Anne-Pacelli, 10:51.54, 2. London Ray, Blessed Trinity, 10:54.32, 3. Ella Bailey, Walton, 11:08.22
110B/100G Meter Hurdles: (BOYS) 1. Kalib Branch, Lovejoy, 13.73, 2. Mohamed Diaby, 13.85, 3. Bryce Southerland, Shiloh, 13.88 (GIRLS) 1. Olivia Powell, Woodward Academy, 13.78, 2. Madeline Cooper, Drew Charter, 13.95, 3. Jaci Wright, Buford, 14.03
300 Meter Hurdles: (BOYS) 1. Xzaviah Taylor, SW DeKalb, 36.36, 2. Darris Roberts, Valdosta, 37.43, 3. Jadon Thomason, Calhoun 37.53 (GIRLS) 1. Marianna Wright, Sapphire-Ruff Riders TC, 40.97, 2. Jasmine Robinson, 41.21, 3. India Thorpe, MLK, 43.64
Long Jump: (BOYS) 1. Nicolas Crosswhite, New Manchester, 24-3.75, 2. Joseph Alexander, Mill Creek, 24-3.25, 3. Pierre Ford, South Gwinnett, 23-0 (GIRLS) 1. Jaci Wright, 19-8.00, 2 Ava Kitchings, Greater Atlanta Christian, 19-1.00, 3. Jadyn Singleton, Savannah Christian, 18-9.00
Triple Jump: (BOYS) 1. Nicolas Crosswhite, New Manchester, 49-0.00, 2. Eric Barker, Shiloh, 46-6.00, 3. Josh Horton, Osborne, 46-3.00 (GIRLS) 1. Ryan Lewis, 40-9.00, 2. Alisa Gordon, Alexander, 40-4.00, 3. Danah Nembhard, 39-1.50
High Jump: (BOYS) 1. Malachi Yehudah, Hughes, 6-9.00, 2. Ian Hodge, Tucker, 6-9.00, 3. Royal Washington, Decatur, 6-6.00 (GIRLS) 1. Marley Derringer, Bremen, 5-7.00, 2. Danah Nembhard, 5-6.00, 3. Lilah Versluis, Cambridge, 5-4.00
Discus: (BOYS) 1. Tahir Hines, Allatoona, 173-8, 2. Christian Dixon, Dutchtown, 170-08.50, 3. John Pacely, Tucker, 165-00 (GIRLS) 1. Kendra Dye, White County, 144-01.50, 2. Shelby Speed, 143.03.50, 3. Maya Steines, Alpharetta, 134-03.50
Shotput: (BOYS) 1. Phillips Moore, 59-4.00, 2. Tahir Hines, Allatoona, 56-5.50, 3. Jared Moore, Starr's Mill, 55-2.75 (GIRLS) 1. Skylar Soli, 47-4.50, 2. Kyndal McKinney, Woodstock, 44-0.00, 3. Christianne Akintayo, Archer, 41-3.00
Pole Vault: (BOYS) 1. Brenden Vanderpool, Whitefield Academy, 15-7.00, 2. Tyler Cash, Allatoona, 15-7.00, 3. Jordan Frank, 15-7.00, 4. Connor McLain, Walton, 15-7.00, 5. Will Frederick, Marietta, 15-7.00 (GIRLS) 1. Amelia Johnson, Hart County, 12-7.50, 2. Madison Townsend, 12-7.50, 3. Silvana Lopez-Ramirez, 12-1.50
Boys Shotput Adaptive: 1. Kenneth Escobar, 24-11.75, 2. Max Richardson, 4-6.75
Boys Discus Adaptive: 1. Kenneth Escobar, 64-0