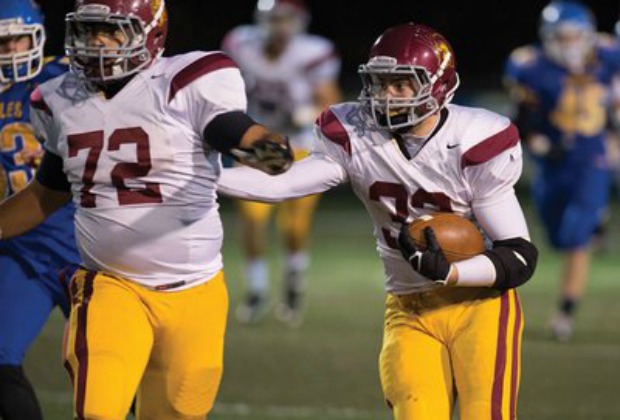 Lassiter backup quarterback Russ Aarons left his fingerprints and footprints all over the field versus visiting Sprayberry, throwing for one score and rushing for three to lead the Trojans to a 41-23 rout over the Yellow Jackets.
With the win, Lassiter evens its record at 1-1. Sprayberry's loss drops it to 0-3.
Aarons was superb filling in for injured signal-caller Will Anderson, who was sidelined due to a concussion he suffered in the opener last week against McEachern.
"I came out and wanted to show the coaches what I could do," said Aarons. "I'm comfortable with our system and the guys. The offensive line did a great job of blocking and the receivers got open for me."
The Trojans dominated their neighborhood foe in all phases of the game. On offense, they mixed an assortment punishing runs with precision passing to eat up chunks of yardage. On defense, they took advantage of Sprayberry's one-dimensional running attack by flooding the line and closing up holes on every snap. Lassiter's special teams also created havoc, recording four touchbacks on its six kickoffs.
"We're happy for our seniors to get a win against a rival. The kids deserved to win, but we still have to improve," said head coach Jep Irwin. "We had some big plays and we were opportunistic. As long as we can run the ball, we're fine. [Russ] Aarons did a really good job for us. We just need to be more consistent."
Friday's win once again showed the offensive potency brewing within the locker room at Lassiter. In addition to Aaron's highlight-reel performance, the Trojans featured explosive plays from Quincy Perdue, who had a 64-yard touchdown reception and Grant Daniels, who broke for a 57-yard scoring run. The Trojans are averaging 34.5 points on the young season, having posted 28 on the scoreboard during last week.
While it was all smiles on the Lassiter sideline, down the road at Sprayberry, the coaching staff must regroup and find the right combination to add a notch in the win column.