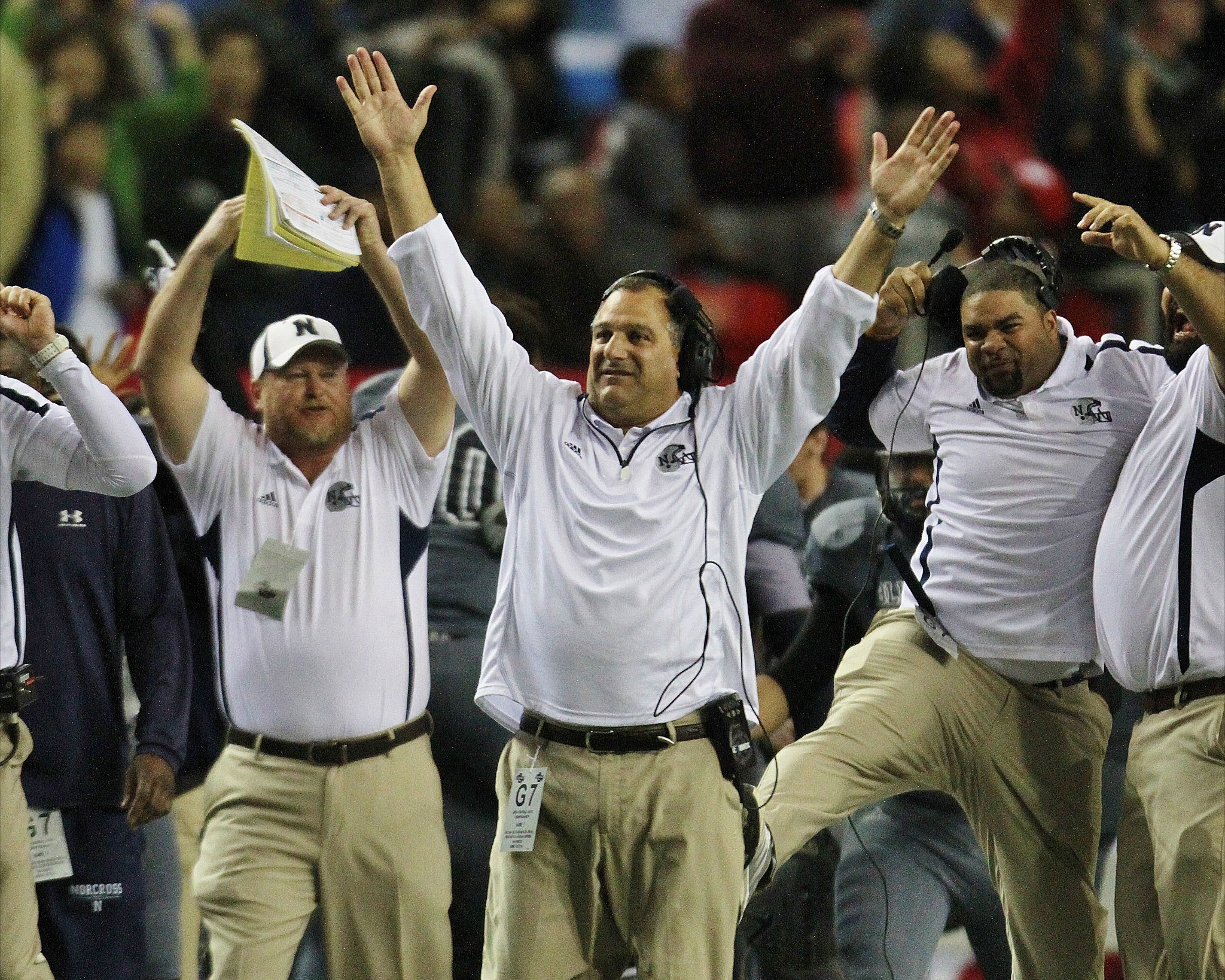 Rob Saye
South Panola (Miss.) 34, Meridian (Miss.) 14: Bad blood remains between the two schools ever since 2008, when Meridian snapped the Tigers' 89-game winning streak and grabbed the 5A title on South Panola's home turf. On Friday night, the teams were tied 7-7 at the half, but the visiting Tigers wore out the Meridian defense. Through the first three quarters, Darrell Henderson gained 253 yards and scored three touchdowns for South Panola.
Norcross (Ga.) 21, Parkview (Ga.) 7: Josh Boyd scored on touchdown runs of 13 and 34 yards to help visiting Norcross pull away from Parkview. Norcross led 7-0 and built its advantage to 21-0 late in the fourth quarter before Parkview got on the scoreboard. A failed onside kick attempt by the Panthers all but ended the game. Quarterback A.J. Bush threw one touchdown pass for the victorious Blue Devils, a 34-yard strike to Clinton Lynch.
Booker T. Washington (Fla.) 28, Miami Central (Fla.) 17: No. 1-ranked Washington scored 14 points in the fourth quarter to rally past Miami Central. Tornadoes quarterback Treon Harris finished 12 of 17 passing for 129 yards and two touchdown, including a 59-yard touchdown to Deltron Hopkins in the third quarter. Central's Joe Yearby finished with 128 yards rushing on 21 carries and an 11-yard touchdown, and Dalvin Cook finished with 59 yards on 11 carries and a 30-yard touchdown. Washington's Terry Jefferson scored a 75-yard interception return for a touchdown with 9.9 seconds left in the game to ice the victory.
Byrnes (S.C.) 82, Woodruff (S.C.) 49: At halftime host Byrnes had a 55-28 lead and quarterback Shuler Bentley had already tossed five touchdowns and racked up 298 yards passing. In the second half, the record-breaking performace continued, and Bentley brook Anthony Johnson's state record eight touchdown passes that was set in 2000 by throwing his ninth score of the game. Bentley added a rushing touchdown in the game as well and finished with a school record 530 yards passing.
American Heritage-Plantation (Fla.) 28, American Heritage-Delray (Fla.) 6: Host American Heritage-Plantation capitalized on an Anthony Flory fumble recovery in the opening quarter with a Sony Michel touchdown. Michel, a UGA commit found the endzone once more in the third quarter on a nine-yard run and finished with 93 yards on the night. American Heritage-Plantation extended the lead to 21-3 with 5:26 left in the third as it kept its drive alive on a fake punt that gave the Patriots the ball on the Stallions' 13-yard line. Brandon Vicens found Brandon Johnson for a Patriots' score. Two Nick Rubinawitz field goals were all the Stallion points allowed.
Whitehaven (Tenn.) 27, White Station (Tenn.) 19: Ramadi Warren finished with three second-half touchdowns that propelled visiting Whitehaven to victory after taking a 10-6 deficit into halftime. Warren scored a 55-yard touchdown in the third quarter, and added two scores in the final minutes of the game. The Tigers were given a safety and 19-14 lead when a low snap White Station snap forced the punter to take a knee while he fielded the ball. Spartans quarterback Cedrick Wilson threw a touchdown pass to Dalvin Foster and Eldridge Thomson ran in a score in the loss.
Craig Sager II and Ricky Dimon contributed to this report.