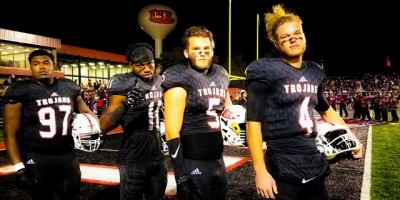 Photo Credit: Matthew Hall, Hall Shots Photography
The rematch of the Region 1-AAAAAA championship game took overtime, but in the end, an 11-yard touchdown pass from quarterback Jase Orndorff to Drequan Garmon gave the Lee County Trojans a 28-21 lead after the first possession of the overtime period. Coffee, which had the lead until 2:14 in the fourth quarter, had a chance to answer on its possession, but an interception by Tay Mayo secured the Class AAAAAA title for Lee (14-1). The victory marked the second for Lee over Coffee this season.
"Jase has been such a great player for us all year and we knew Coffee, they're really good on defense, so we knew he was going to have to make some plays," said Lee County Coach Dean Fabrizio following his come-from-behind win. "We were down, they got on us early and Jase did a great job in the second half. Defensively, our coordinator, John Smith, did a great job making some adjustments at halftime and the defense really stepped up in the second half."
The victory marked the second game in a row that required a comeback in the final minutes for Fabrizio's team. In the semifinals against Glynn Academy, Lee forced turnovers on the final four drives to take and then protect the lead, earning the championship berth.
"This one, well, we were not down quite as much," Fabrizio said in reference to his semifinal win. "We knew it was going to be a four-quarter battle, but I just want to say that there were two champions on the field tonight. We take a lot of pride in football here in Region 1 and this is the fourth straight year that the champion has come out of the region we have been in. What a showcase for high school football here in Georgia, what a showcase for Region 1 football and what a showcase for South Georgia football."
Coffee (11-4) took a 7-0 lead after the first quarter on the back of a Jameon Gaskin run from 3 yards out. An interception and a long  return led to another short run by Gaskin, giving Coffee a 14-0 lead with 5:45 left in the first half. Lee answered on the ensuing kickoff with a 95-yard touchdown return by Ty Terrell, which cut the lead to 14-7. Coffee responded with yet another short run by Gaskin with 1:07 left in the half to take a 21-7 lead. A 12-yard pass from Orndorff to Josh Asbury with 10.5 seconds left made it a one-score game going into halftime, 21-14.
The touchdown pass in overtime marked the second huge connection between Orndorff and Garmon. With 2:14 left in regulation, Garmon got open for a 30-yard touchdown pass from Orndorff that tied the game at 21.
"The thing about Drequan Garmon, here is a kid who tore his ACL in July, rehabbed like crazy to come back, we just got him back a couple of weeks ago and for him to catch two touchdowns tonight, including the game-winner, couldn't have come from a better kid and a harder working kid," Fabrizio said. "What a story."
Coffee had a chance with seconds remaining in regulation as it lined up for a 31-yard field-goal attempt that sailed wide to send the game into overtime.