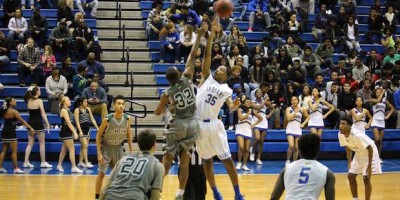 McEachern remains on top of Class 7A.
Preseason No. 1 McEachern stays on top of Class AAAAAAA. Undefeated Newton is now No. 3, and Peachtree Ridge and Pebblebrook break into the rankings with strong starts.
Gainesville is 2-4 after a very challenging early schedule and is dealing with some missing personnel, so the Red Elephants fall to No. 3 for now. Brunswick is undefeated and takes No. 1 after a victory over Coffee (64-61) on Dec. 12. Langston Hughes checks in at second.
Warner Robins is also an undefeated No. 1 in Class AAAAA and has some great wins on the resume, like over a ranked AAAAAAA Grayson team. The Demons moved past Houston County on Dec. 9 (84-53) to move to 6-0 on the season. Warner Robins is trailed by No. 2 Buford and No. 3 Columbia.
Defending-champion and top-ranked Upson-Lee has been perfect on the season through nine games. Through eight games, Tavias Fagan has led the Knights with 26.7 points, 5.7 rebounds and 4.3 assists per game. Juniors Zyrice Scott (14.4 ppg) and Travon Walker (10.1 ppg) and senior Cameron Traylor (11.3 ppg) each average in double-figures for Upson. The second-ranked Sandy Creek Patriots have three players averaging double-figures through five games — seniors Jarred Godfrey (17.8 ppg) and Xavier Brewer (11.6 ppg) and junior T.J. Bickerstaff (14.4 ppg). Third-ranked St. Pius X will be looking to get back on track in its next game against seventh-ranked Stephens County after falling to Lausanne Collegiate, TN on Dec. 9 (66-60).
Morgan County is the team to beat in Class AAA. The Bulldogs, who won the Class AAA title in 2014 and 2016, have a flawless record through seven games. GAC made a jump to second in the rankings after victories over Marist and North Hall following the Spartans' loss to Peachtree Ridge in the Tabo's Tipoff Classic on Nov. 21. Third-ranked Johnson-Savannah defeated region rival and No. 4 Jenkins on Dec. 8 to move to 5-1 on the season and got a huge region win over Beach on Dec. 12 (77-39).
Glenn Hills is in the lead of Class AA. The Spartans moved past Laney (62-61) on Dec. 12 in a battle of Augusta schools. Second-ranked Banks County moved past East Hall on Dec. 13 for the second time this season. Third-ranked Jeff Davis squeaked by Metter on Dec. 8 (74-73) but then fell to Vidalia on Dec. 12 (62-59) in a closely contested game.
St. Francis moved to the top of the Class A-Private rankings with Aquinas as a close second. The Knights' only loss came to Carmel Christian, NC at the Holiday Hoopsgiving Tournament. Since the loss, the Knights have moved past Lakeview Academy, Fellowship Christian, Walker and, on Dec. 12, Southwest Atlanta Christian (93-32) in blowout fashion. Since dropping its first game against Bishop Loughlin, NY, second-ranked Aquinas moved past ELCA, Lake Oconee Academy, Glascock County and Washington-Wilkes to move to 4-1 on the year.
In Class A-Public, three undefeated teams top the classification with Calhoun County, Central-Talbotton and Macon County taking up Nos. 1-3. A talented Woodville-Tompkins squad checks in at fourth.
Class AAAAAAA
1. McEachern
2. Norcross
3. Newton
4. Wheeler
5. Peachtree Ridge
6. Pebblebrook
7. Grayson
8. Meadowcreek
9. Mountain View
10. Duluth
Class AAAAAA
1. Brunswick
2. Langston Hughes
3. Gainesville
4. Jonesboro
5. Tucker
6. Bradwell Institute
7. Tri-Cities
8. Greenbrier
9. Cambridge
10. Lanier
Class AAAAA
1. Warner Robins
2. Buford
3. Columbia
4. Miller Grove
5. McIntosh
6. Maynard Jackson
7. Statesboro
8. Southwest DeKalb
9. Lithia Springs
10. Starr's Mill
Class AAAA
1. Upson Lee
2. Sandy Creek
3. St. Pius X
4. Carver-Columbus
5. Americus-Sumter
6. Mary Persons
7. Stephens County
8. Cartersville
9. Baldwin
10. Westover
Class AAA
1. Morgan County
2. Greater Atlanta Christian
3. Johnson-Savannah
4. Jenkins
5. Cedar Grove
6. Westside-Macon
7. Pace Academy
8. Calhoun
9. Windsor Forest
10. Dougherty
Class AA
1. Glenn Hills
2. Banks County
3. Jeff Davis
4. South Atlanta
5. Dublin
6. Berrien
7. Thomasville
8. Swainsboro
9. Monticello
10. Washington County
Class A-Private
1. St. Francis
2. Aquinas
3. Eagle's Landing Christian
4. Landmark Christian
5. North Cobb Christian
6. WD Mohammed
7. Wesleyan
8. Stratford Academy
9. King's Ridge Christian
10. Mount Vernon Presbyterian
Class A-Public
1. Calhoun County
2. Central-Talbotton
3. Macon County
4. Woodville-Tompkins
5. Montgomery County
6. Wilkinson County
7. Lanier County
8. Wilcox County
9. Manchester
10. Mitchell County