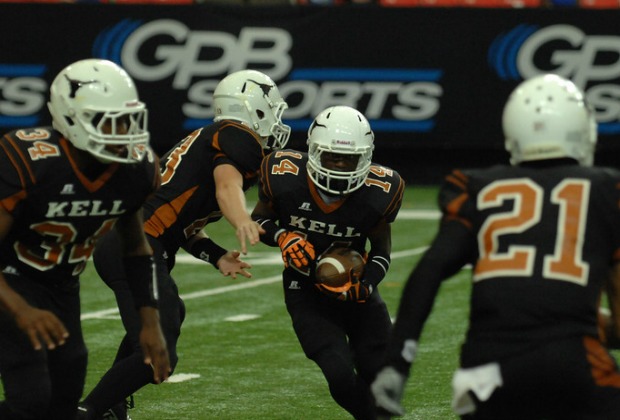 Sony Kennedy
Kell's Derek Cook will not need to give a Hollywood-type pre game speech Aug. 24. The atmosphere of the Georgia Dome for the Corky Kell Classic will do that on it's own. The Longhorns will crack pads with the Chattahoochee Cougars that evening at 7:30 p.m., part of the five-game football bonanza that is Atlanta's Corky Kell Classic. Cook, entering his fifth year on the sidelines for Kell, is just as juiced as his players are about playing in this event for the fourth consecutive year.
"It's such a prestigious event and flattering to be involved in the event itself," Cook said. "It keeps the guys motivated in the offseason, they want to get things started off on the right foot in an incredible venue. It's just exciting to be involved in the Corky Kell Classic."
The Longhorns have plenty of offensive and defensive weapons to line up in the Dome come the 24th. Players like 2012 region offensive player of the year, senior Matthew McGuin, who threw for 1,800 yards and 20 scores last season, and rising senior Tyler Henkle. Henkle is a decorated two-way stud with accolades such as 2012 all-state and the 2012 Kell Marine Corps athlete of the year award. Henkle recently committed to Kennesaw State University to be part of Owls' history in its first recruiting class.
The Longhorns play in their beloved "Stockyard" and are 35-12 overall and 20-3 at home during Cook's tenure. This success, Cook says, is due to the unique atmosphere the simplicity of the stadium provides.
"We always said when we came in as a staff in 2008 that this is our house and we need to protect it," Cook said. "I think it's just our guys taking pride in their home field. …Another thing that makes Kell unique is that we don't have a track around our game field. Our track is out behind the school, our bleachers are significantly closer to the field than some venues, so I think it makes it more unnerving for the opponent to be so close to the fan base," Cook said.
Since losing their 2012 second round playoff game to Gainesville 62-41, the Longhorns are slowly inching closer to not just one, but, a return date to the Dome in December for the state crown.
"In my opinion, it's a state of mind," Cook said. "You can continue to do things that have been making you unsuccessful, or change things and find a way that is successful. We have established that we will be physical defense and a physical, punishing offense. When you play us, win or lose, there is a pretty good chance you are going to be sore in the morning, we take pride in striking people," Cook said.
With an inspiration to find success, a unique home-field advantage, and a ferocious playing style, the Longhorns have a realistic shot of reaching the Class AAAAA title game in December. Time will decide their fate, as the Longhorns' first litmus test takes place under the Atlanta big top vs. the Chattahoochee Cougars.
KELL makes TOP 10 list for most improved 2013