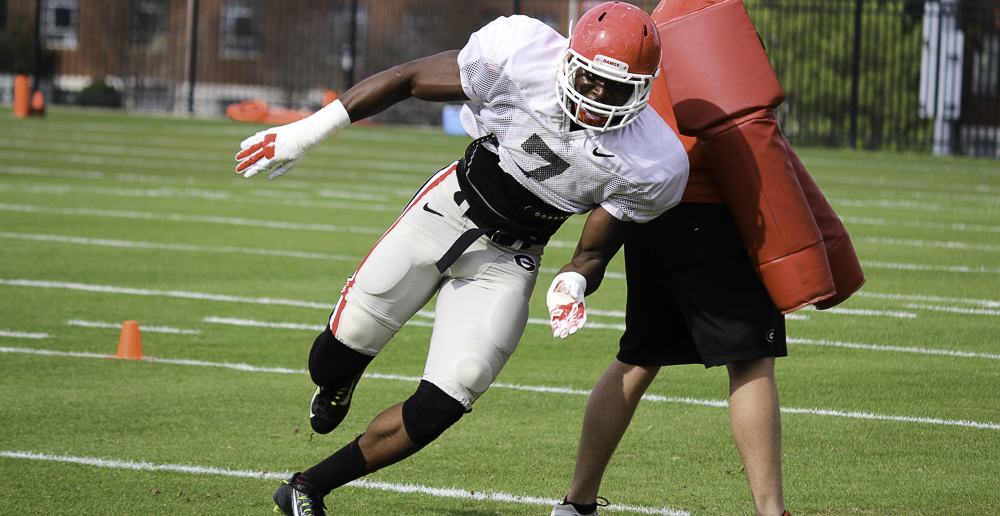 Jake Rowe/ 247 Sports
ATHENS, Ga.– All spring practice we've been hearing about the battles for the starting center and quarterback spots. On the defensive side, we've heard a ton about sophomore outside linebacker Lorenzo Carter.
Earlier this spring we heard from senior outside linebacker Jordan Jenkins, about players that were catching his eye during offseason workouts. Needless to say, Carter was one of those players.
"Lorenzo Carter is going to be one of the greatest defensive players to come through this university," Jenkins said before the start of spring practice. "He's a young man who is gifted athletically and gifted mentally. He just has all the tools you want in a kid. If he stays focused, commits to the offseason and commits to getting better, the sky is the limit for that guy."
Since then, the team has gone through most of their 2015 spring practices and Jenkins is still a huge fan of what he is of Carter.
"We all like to say he's a 'Create-A-Player' of off Madden or one of those video games," Jenkins said. "He's a funny cat and he's a competitor."
Jenkins knows a lot about bursting onto the scene as a freshman and putting up huge numbers from the outside linebacker spot. He was able to do this on the opposite side of Jarvis Jones.
His freshman year saw 31 tackles, eight for a loss, and five sacks in 2012. Carter's numbers were pretty similar with 41 tackles, seven for a loss, and four and a half sacks.
Even with all of the success from last year, Carter is still looking to get better this season and beyond. He thanks one group of people in particular for this drive and making him more comfortable in Athens.
"I feel like we have one of the best coaching staff's, if not the best coaching staff in the nation," Carter said. "I take pride in listening to what they tell me to do and trying to execute it to the best of my ability."
In terms of the greatness conversation involving Carter, he's flattered. But he's also not ending his career at Georgia before he even plays his sophomore season.
"There's been a lot of players that came through here," Carter said. "Great players! Just to be considered among one of the greatest would be an honor of myself if I left here, to say that I was one of the great's that played here. I know it's going to take a lot of work, so I can't let it stop now."
Carter has been getting accolades from other position players on the field. The offensive players at Georgia have even been pumping up his play to this point in his career.
When it comes to trying to stay humble, Carter does credit the coaches for keeping him on the right path. However, he also believes that the outside linebacker group in general is good at doing that with everyone on the team.
"As a group we joke around in the meeting room all the time," Carter said. "If one player messes up, we'll get on him, we'll rag him. But, we'll pick them up too. We won't let anyone get too high, even with (junior Leonard) Flo(yd) and (redshirt sophomore Davin) Bell(amy). We'll keep them from getting too low, even though they're hurt right now. Make sure they get involved and stuff."
Yes, this usually is the time of year when people are looking for any stories to talk about from the football practice fields. The thing that seems to make the story about Carter different, is the fact his name has seemingly been mentioned throughout the entire spring.
Georgia fans are hoping in the fall that his name and number are called numerous times in the opponents backfield.