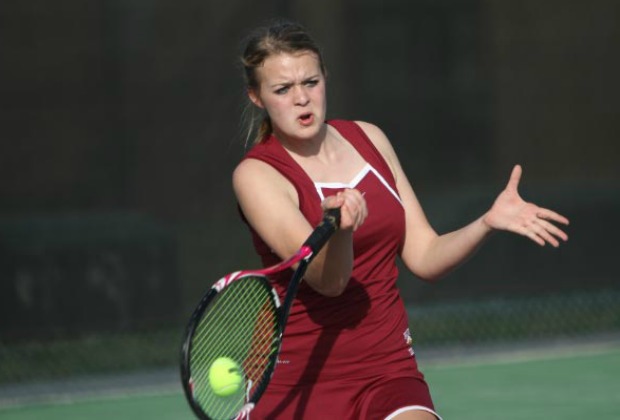 Photo by John Gardner
The Starr's Mill girls picked up a big win over Brookwood last Thursday in a potential preview of the Class AAAAAA playoffs. Brookwood dropped to 10-3 overall on the season, but it finished region play at a perfect 8-0 heading into the 8-AAAAAA tournament. The Broncos picked up wins at No. 3 singles (Ariel Charles) and No. 1 doubles (Leticia Coelho and Sydney Weigand) before succumbing to the Panthers 3-2. Coelho and Weigand were teaming up for the first time against Starr's Mill, making for an interesting dynamic. Weigand's family is hosting Coelho, who is an exchange student from Brazil.
Clarke Central sophomore Caroline Caldwell improved to 11-0 for the season and 24-0 in her career when she defeated Flowery Branch's Nicole Morris 6-3, 6-2 at No. 1 singles last week. Caldwell trailed 3-0 in the first set before restoring order to the match. It was the Flowery Branch girls, however, who won the Region 8-AAAA battle. The Falcons got singles victories from Olivia Correa and Peyton Brick.
The Sequoyah girls secured the No. 1 seed from their sub-region heading into the Region 7-AAAAA event thanks to wins late last month over rivals Dalton and River Ridge. Against Dalton, Taylor Dodd won at No. 1 singles 6-1, 6-0, Morgan Dodd coasted through her singles contest 6-0, 6-0 and Victoria Smith teamed up with Sophia Levantis to prevail 7-5, 6-2 in doubles. Those victories were enough for the Chiefs to hold off Dalton 3-2. Next up for Sequoyah is a road trip to Pickens on Wednesday before postseason competition begins on April 14.
Walton's program is nothing short of a powerhouse and both the boys and girls looked strong last week. The boys paid a visit to Class AAA state title favorite Westminster and pulled out a 3-2 victory despite missing one of their best players. Morgan Stone led the way at No. 1 singles for the Raiders. Westminster got wins from Josh Pinckney and Blair Nagel at No. 2 and No. 3 singles, respectively, but Walton took care of both doubles matches. The Walton girls have already kicked off Region 5-AAAAAA tournament action. They did not lose a single game to Lassiter in any of the three lines that finished. Bella Kuse won at No. 2 singles, Emily Gaskins and Grace Gaskins prevailed at No. 1 doubles and Jessica Cramer paired with Sophia Guldberg to get the job done at No. 2 doubles.