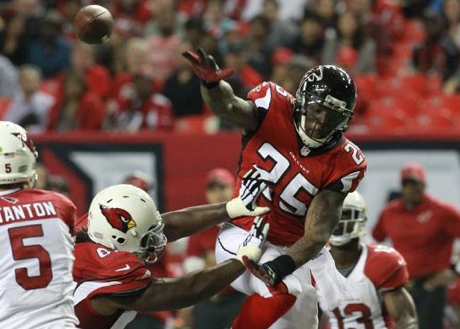 AtlantaFalcons.Com
For the second time in the last three weeks, the Falcons had themselves "victory Monday" in Flowery Branch. The positive vibes were being felt for their dominant 29-18 win over the Arizona Cardinals and what went into that win.
The Falcons were able to have not only a 100-yard rusher in the win, with Steven Jackson going for 101 yards on 18 carries. They ran the ball 34 times as a team for a total of 142 yards. The reason? Head coach Mike Smith thinks that you don't have to look far. Just look at the five guys up front, the offensive line.
"I think they're really starting to come together in regards to understanding what the other guy is going to be doing," Smith said. "That unit has to play together as a unit and there is some cohesion there over the last couple of weeks. It was good to get the running game going."
The unit also only allowed for quarterback Matt Ryan to get sacked once and Arizona's defense only hit him three times in the win.
Smith was also asked about the job that offensive line coach Mike Tice has done this season with this unit. He's very happy with the job he and assistant offensive line coach Wade Harman have been doing.
"I think coach Tice has done a very good job," Smith said. "He and coach Wade Harman work with our offensive line. This is a group that's starting a college free agent (James Stone) at the center position, a second year player (Ryan Schraeder) at the offensive tackle, and a rookie draft pick (Jake Matthews). It says a lot about those guys getting them ready and prepared to play."
Smith expanded on this thought to say that he believes that in the last three-four weeks, we've seen Matthews playing some really good football. Plus, he continues to be impressed with the job that Stone is doing at the center spot.
Notable in his absence yesterday was wide receiver Roddy White. He is dealing with another ankle issue this season. Smith would only say that it is an ankle sprain, when he was asked if it was a high-ankle sprain. The good news is that they are confident that White will be able to play this week on Monday Night Football against the Green Bay Packers at Lambeau Field.
Even more good news from yesterday was the return of William Moore to the lineup, after missing the last few weeks with a shoulder issue. He was hurt in the loss on the road to the Minnesota Vikings in week four of the season. Yesterday he returned to pick up four tackles and a forced fumble on Cardinals wide receiver Michael Floyd. Smith sure welcomed back number 25 with open arms.
"When you have him involved as an element trying to defend the run it's like having another linebacker near the line of scrimmage," Smith said. "He did a very good job yesterday. We were a little concerned about his conditioning, but he was able to play every snap in the ballgame. He did a very good job in preparation for his return."
Smith even uttered the word playmaker to describe what Moore means to this defense.
Now, the Falcons attention has to turn to the Green Bay Packers Monday night at Lambeau Field. Smith says this will be no easy task, especially going up against one of the best quarterbacks in the league, Aaron Rodgers.
"It will be a big challenge for us this week with Aaron Rodgers, who without a doubt is probably playing the best of any quarterback in the NFL right now," Smith said. "He has a number of weapons that he can get the ball to. They're playing extremely well at home. I don't believe they've thrown an interception at home this season and I don't even want to talk about how many points they've scored in the last three games there at Lambeau Field."
The Packers are averaging about 45 points a game in their last three appearances at home. This number is inflated with over 50 point performances against the Chicago Bears and Philadelphia Eagles. They also just beat the New England Patriots yesterday 26-21. Needless to say, the Falcons work is cut out for them this week.
As mentioned numerous times throughout this piece, the Falcons will be playing the Packers on a Monday night. When asked to describe playing at Lambeau Field at night in December, Mike Smith said "cold." Also he added that you'll see a lot of orange jackets in the stands. Those jackets he's talking about are hunting jackets.
Some things that we know on this Falcons "victory Monday," is that it was a very good team win. Also, they've got to turn the page very quickly to get ready for one of the NFL's best teams on their home field.