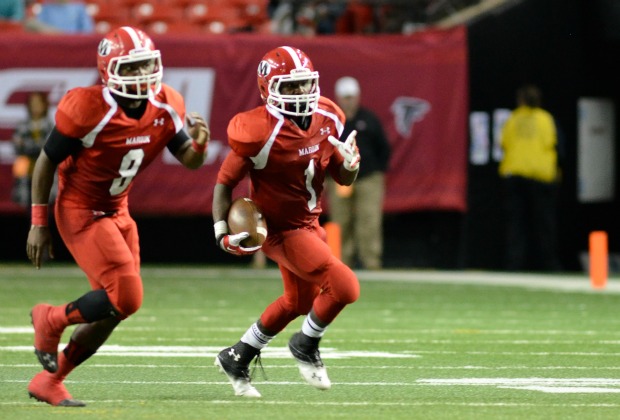 Photo by Sonny Kennedy
Hawkinsville vs. Marion County
There will be no secrets between Region 4-A rivals Hawkinsville and Marion County, who are set to face each other for the fourth time since Nov. 1, 2013. Last year, Marion County lost to Hawkinsville 14-10 during the regular season only to hammer the Red Devils 40-7 in a semifinal showdown en route to its first-ever state championship. Hawkinsville hopes the roles are reversed in 2014, as it succumbed to Marion County 13-6 back on Oct. 17. The Red Devils are really the only team to have slowed down Marion County's offense, which was especially dominant in putting up its two highest point totals of the season in playoff victories over Greenville (52-6) and Mt. Zion-Carroll (53-14). Junior all-purpose star Lorenzo Smothers leads the attack for Marion County. He scored via punt return, rush and reception in his team's quarterfinal win over Mt. Zion-Carroll and he took an interception to the endzone in last year's semifinal defeat of Hawkinsville. Smothers is complemented nicely by senior leaders Dustin Eckert, the quarterback, and Johnny Royal, a running back who rushed for 114 yards and two touchdowns last Friday. As usual, this should be a ground-heavy contest that features an intriguing battle between Marion County's offense and Hawkinsville's defense. The Red Devils have not given up more than 14 points in a game this season. They were shutting out 2013 runner-up Charlton County in the quarterfinals until the final minute, eventually surviving 12-6 in overtime. Offensively, the charge is led in part by a pair of seniors-quarterback Dakota Sloan and running back Warren Singletary. Hawkinsville is two wins away from its sixth state championship and first since going back-to-back in 2003 and 2004. Marion County has been flying high ever since Mike Swaney took over as head coach in 2010, with a 55-7 overall record and four region titles in five years.
Commerce vs. Irwin County
Three of last year's four Class A-Public semifinalists are back, with Commerce being the only newcomer. The Tigers had to play Charlton County in the first round of the 2013 tournament and succumbed 35-21. Their defense made sure this time around that there would be no early exit from the playoffs. The unit endured a minor hiccup a 55-28 win over Lakeview Academy to wrap up the regular season, but that was preceded by two straight shutouts and followed by dominance of Clinch County (seven points allowed) and Calhoun County (another shutout). Sophomore Cole Chancey, who also contributes on offense as a running back, recovered three fumbles against Calhoun County from his safety position. Fellow two-way starter Will Thomas, another sophomore, stars at fullback and outside linebacker. He had 20 carries for 162 yards and four touchdowns against Clinch County. Commerce can almost make game-changing plays on special teams, an area highlighted by kicker Andres Salgado and return man Grant Mayberry. Irwin County is hoping to go at least one step further than last year, when its first semifinal appearance since 1997 ended with a 34-33 heartbreaker against Charlton County. The Indians have taken the suspense out just about every game against Class A competition this season. That includes a 41-14 revenge rout of Charlton County and a 40-29 win over Dooly County last Friday in a contest that was not as close as the final score suggests (Irwin County led 33-7 in the fourth quarter). Like Commerce's Caleb Brooks, Zach Tolar of Irwin County is a quarterback who does most of his damage on the ground. At the helm of one of the state's most unbalanced offenses in terms of run-to-pass ratio, Tolar has capitalized on rare throwing opportunities to toss five touchdown passes so far this season. A vaunted rushing attack also features Ty Hogan, Robert Moore and Jakyron Young.