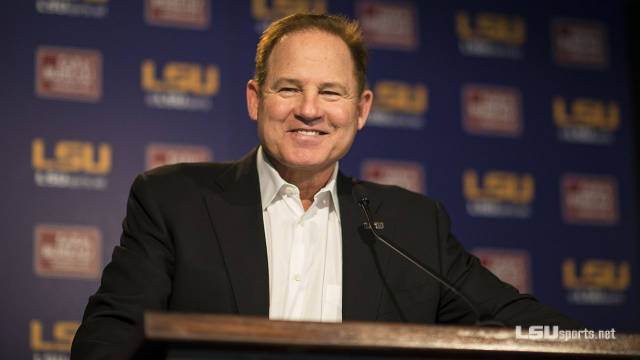 Chris Parent/ LSU Athletics
HOOVER, Ala.—Last season LSU finished 8-5, after a loss to Notre Dame in the Music City Bowl. This largely happened because the Tigers woefully struggled with the quarterback play.
LSU was ranked 114th in the nation for passing, with 162.9 yards per game. The snaps were mostly taken by Marietta high school product Anthony Jennings was the main starting quarterback and sophomore Brandon Harris was able to play in eight games.
Neither Jennings nor Harris were able to crack a 60 percent passing percentage in 2014. So, the competition for the starting job will rage on when the Tigers take the field to start fall camp in Baton Rouge.
LSU head coach Les Miles no doubt was asked about where the competition stands when he talked with the media at SEC Media Days.
"That job/position will be won by the guy who handles competition and handles the daily grind," Miles said.
Right now Harris is seemingly getting a leg up on Jennings, because the Marietta native is currently suspended for an off-field infraction. Miles says Harris is making the most of his chances.
"I think Brandon Harris has had a great summer and with competition is really going to have an opportunity to make his case," Miles said.
Sophomore running back Leonard Fournette is going to help whoever gets the starting nod at quarterback, as he returns from a 1,034 yard/10 touchdown season. He came in with Harris in last year's recruiting class and has a chance to see the quarterbacks in player-led workouts.
With the suspension, Jennings is sidelined right now and that is helping the underclassman.
"He's changed a lot," Fournette said. "He's stepping up, to be honest. "Anny" (Jennings) is still helping him out, because at the end of the day "Anny" still knows a lot more than Brandon, because he has a couple more years on Brandon."
The Tigers also return an experienced center to help their development, with Ethan Pocic back for his junior season. Now starting right tackle Vadal Alexander expects he'll help aid the development of those two.
"He can help everybody he's around," Alexander said. "I look forward to playing with him. Whichever quarterback is behind him is going to love him because he is a great player; point blank."
The quarterback position will be the largest question for the Tigers heading into their first game of the season against McNeese State on September 5 in 'Death Valley.' The defense and offense both return seven starters a piece.
LSU will have their same season they've had for the past few years. That is 9-10 wins in the regular season and a likely trip to one of the Florida bowl games.
LSU Prediction: 3rd in the SEC West