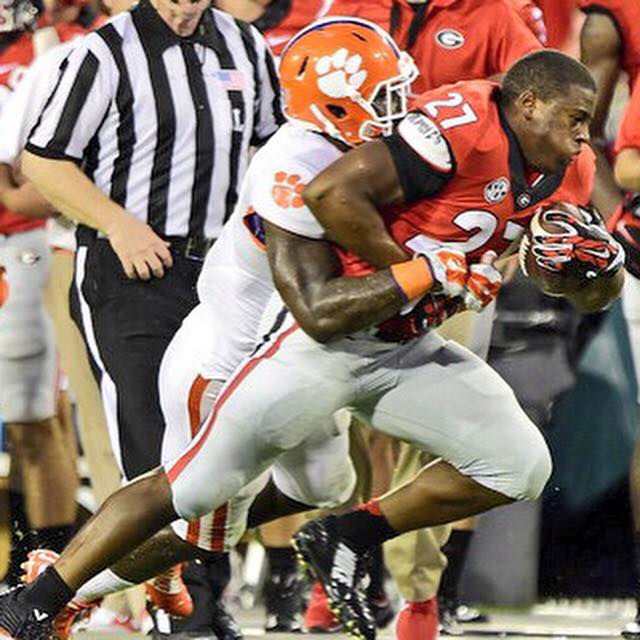 Georgia Football
HOOVER, Ala.–  It has been 10 years since Georgia won the SEC Championship and the media believes they have a great chance to get there this season. The last time they found themselves inside the Georgia Dome was in 2012 when they lost to the Alabama Crimson Tide.
Now they head into 2015 with six starters returning on offense and the same on defense. Yes we don't know who will be quarterback or center just yet. They do know that Nick Chubb will be back for his sophomore season along with sophomore Sony Michel, sophomore AJ Turman and senior Keith Marshall.
The defense has a strong linebacker group with senior's Jordan Jenkins/Leonard Floyd. Plus, you can't forget about sophomore Lorenzo Carter.
The numbers are there, with players ready to compete for the conference title. Jenkins is ready to play for it.
"It feels like it's the time," Jenkins said. "With the way we approach our workouts, the way we approach our meetings and everything. Even when the coaches aren't there, we're still requiring everyone to go their hardest and go 100 percent of the time. Just be attentive and recognize that in order to win and get to where we want to go at the end of the season, we need to start now."
The player led workouts are happening right now in Athens, with the Bulldogs just a couple of weeks away from the start of their fall camp. The quarterback battle rages on between Brice Ramsey, Faton Bauta and new transfer Grayson Lambert.
Head coach Mark Richt is still trying to figure out who that guy will be under center.
"I have no idea who the starter is going to be," Richt said. "We are going to take a while. We have 29 practice opportunities before the first game and we're going to get a rotation where we can see the guys that we want to see compete and then make a decision on who should be the starter."
You don't need much of a reminder that Nick Chubb will take a lot of pressure off the quarterback's shoulders. 2015 seems to be the year of the running back in the SEC.
Chubb is considered by many to be a first team All-SEC back. Alabama has Derrick Henry as their lead man and same goes for Leonard Fournette with LSU.
Speaking of Fournette, he had some high praise for the Georgia leading rusher.
"I met Nick in high school," Fournette said. "He's a great person. He's a great running back. I think he is hands-down the best running back in the SEC. I'm competing against him every day."
He will mean everything to the Bulldogs if they are going to compete for the conference title. Mark Richt keeps that as the goal for any Georgia season.
"The goal is to get there and win it when you get there," Richt said. "Our focus is on the process again. Our focus isn't on getting there as much as what do we have to do on a daily basis to earn the right for victory? That's what the guys have been doing throughout the off-season, the spring and summer workouts."
Senior wide receiver Malcolm Mitchell is another player who needs to shine in 2015, in order for the Bulldogs to get back inside the Dome. The very good news is that he's healthy.
"I am feeling well," Mitchell said. "This is the best I have felt physically in the last two years."
Mitchell has a lot of good things going for him off the field as well, with the notoriety he has gained for his love of reading. He's even written a children's book. It is called 'The Magicians Hat' and it will be available in August.
Georgia has eight games at Sanford Stadium in 2015 and four on the road. Those four will be tough with contests against Vanderbilt, Tennessee, Auburn, and Georgia Tech.
2015 looks like it will yield another 10-plus win season and that should put Georgia into the mix to win the conference.
Georgia Predicted Finish: 1st in the SEC East