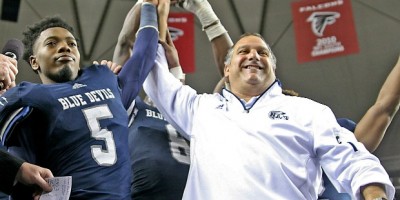 Sonny Kennedy
Norcross High School Head Football Coach Keith Maloof has been named the first Atlanta Falcons Coach of the Week for the 2015 season. Coach Maloof is currently 2-0 this season, including a win over rival Brookwood last Friday and a win over Valdosta in the Corky Kell Classic at the Georgia Dome in the first game of the season.
Coach Maloof has coached at Norcross High School for 17 years and won back-to-back 5A state championships in 2012 and 2013. He comes from a family of football coaches as well.
His father George coached 26 seasons at St. Pius X, and won the 1968 2A state title. His brother Kevin coached 26 seasons at three different schools (Loganville, Meadowcreek, Dacula) finishing with a record of 175-101-1. Maloof and his father are one of only two father-son pairs to each win a state championship as a head coach in the state of Georgia. He credits much of his knowledge of football to his father and brother.
"There are so many things I have learned from my dad and my brother," Maloof said. "Both of those guys were really great mentors throughout my whole life and career. The thing that dad taught us the most was the integrity of the game and how to treat people."
In addition to his coaching achievements, Coach Maloof has shown dedication to community service and football player safety. The Norcross Football Program has worked with the City of Refuge, provided lawn service for the elderly and recently raised $5,000 to help a student at the school that had cancer. Coach Maloof has also been at the forefront in teaching proper tackling and has implemented a nutrition program at the school.
"We really promote the nutrition side of it and what they are eating at school and at home," Maloof said. "We are pumping them full of fluids and fruits during the week to keep them healthy. We talk about how we hit. We talk about keeping our face up and leading with our shoulders and not our faces. A lot of things that we do in practice we do to protect the kids."
Norcross assistant coach Jeremy Muyres, along with Coach Maloof and the Norcross players, have recently become involved with another community-based organization. The I Am A Difference Maker Project (www.iamadiffmaker.com) gives people the opportunity to put other's needs before their own. Through community service, toy drives, and a number of other efforts, the Norcross players and staff are teaching a valuable lesson in providing resources and happiness to those less fortunate.
As Coach of the Week, Coach Maloof will receive a $1,000 grant to use towards his football program, a plaque signed by Falcons Head Coach Dan Quinn and suite tickets to the Falcons home game on December 27.
Nominations for Coach of the Week can be submitted online at www.atlantafalcons.com/coachoftheweek. Each Coach of the Week will be selected weekly based on their coaching achievements, dedication to community service and commitment to player health and safety.