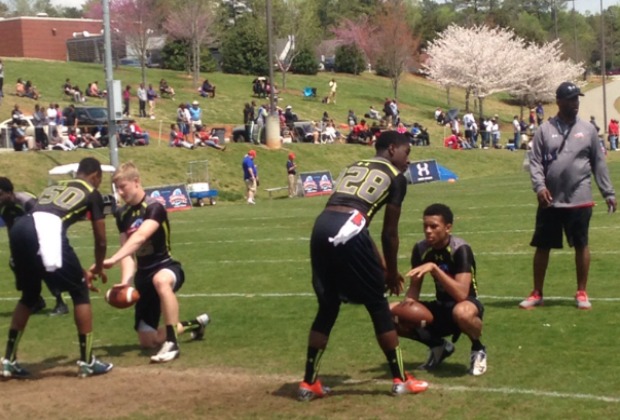 Craig Sager II
The Rivals.com Camp Series set up shop at Marietta High School on Sunday, to evaluate the region of talent that is considered to be the paramount of high school football.
"We have been looking forward to coming to Atlanta," said camp director Al Luginbill. "Everybody knows the SEC is where the best football is played and it is because the best players are coming from here."
The camp was invitation only and more than 200 campers, including Georgia's biggest names were in attendance. The states of Georgia, South Carolina, Tennessee and Alabama were all represented.
More than 30 rivals.com evaluators had their eyes glued to the five hours of drills to get an up-close look at each player.
Defensive end Lorenzo Carter out of Norcross is the No. 1 recruit in Georgia and a top 10 prospect in the country and had all the attention early. Carter used his 6-foot-5, 232-pound frame and wide receiver speed to shine during combat drills. Carter would be lined up with an offensive lineman and would have to try and get to the stationary quarterback behind them as fast as possible. He was a mismatch each rep and blew by linemen the same way a kick returner would shake a kicker in the open field.
Class of 2015 standout Tyler Queen was another guy that showed out on Sunday. The rising junior quarterbacked his North Cobb Warriors to the state semifinals as a sophomore last season while breaking the Cobb County single-season scoring record. Queen has a 6-foot-3, 235-pound frame and an arm that had all the receivers jousting for position in line to get matched up with him in the one-on-one drills. Deep out routes and back-shoulder throws by Queen proved to be impressive. This kid has great fundamentals and athleticism.
Walton quarterback Price Wilson is a rising senior and will get a chance to square off with Queen next season in Raider Valley. The two were competing Sunday, and Wilson was making big-time throws. Among the talented quarterbacks at the camp Wilson was one of the guys that looked like he was already in season form throwing the football.
Five-star quarterback Deshaun Watson of defending state champion Gainesville was there as well as Sandy Creek quarterback Cole Garvin.
The wideouts that were getting open for these big-name passers were equally impressive. Emanuel Beal is a recent transfer from Wheeler to Hillgrove and was unstoppable during drills. Beal's 6-foot-1, 205-pound frame was the most impressive of any of the receivers. He won the one-on-one battles with ease and he appears ready to establish himself on the Hawks' offense when their spring practice begins.
Cole Cook was one of the big name tight ends present, and the 6-foot-6, 235 pounder from Carrollton showed the scouts how he can mismatch a defense. Cook has offers from Missouri, Mississippi State, N.C. State, Cincinnati and Troy.
The defensive side of the ball featured Malkom Parrish, who was named the camp's best defensive performer. Parrish took no time to make a statement and in one-on-one coverage drills intercepted the first four balls thrown his way. The Brooks County shutdown corner is leaning towards Georgia and Oregon at the next level. I did not see a more impressive camp performance than that of Parrish, and he was a unanimous decision among the experts as the top performer on defense.
"This might be the most talent we ever have seen at one of these camps," said Luginbill as the players left the field.
There is a lot of offseason left with spring practice around the corner. A competitive spring and a summer of 7-on-7′s will continue to set the stage for a star studded 2013 season in Georgia.