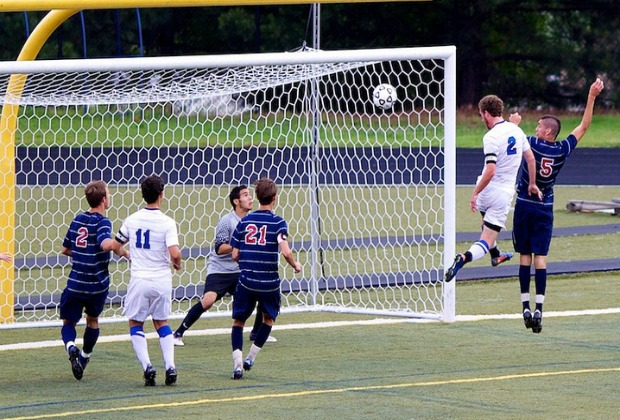 Mauricio dos Santos
Last week was spring break for many schools throughout the state and, therefore, several ranked teams were inactive. In some cases, entire polls remained unchanged.
In the boys rankings, Classes 3A and 4A saw no movement.
In Class 6A, however, South Gwinnett upset No. 3 Central Gwinnett causing the Black Knights to fall to No. 6. No. 2 Centennial, meanwhile, gained a huge win by edging No. 8 Harrison 1-0 Friday.
Evans is a new member of the top 10 in Class 5A after defeating local rival Lakeside, which was ranked No. 9, on Tuesday 1-0.
Class AA saw the most movement this week as three teams in the poll either lost or tied games. Wesleyan beat Lovett 3-1 Friday to hand the Lions their fourth loss in five games. The loss dropped Lovett out and promoted Wesleyan back to the top 10. No. 3 Westminster lost to No. 1 Greater Atlanta Christian and 3A-power Woodward Academy, but did not drop due to the quality of the losses. Westside-Augusta dropped to No. 5 after a 1-1 draw to Richmond Academy.
In Class A, No. 6 Galloway dropped a 3-0 decision to No. 5 Pace Academy Friday and fell to No. 8 as a result.
Class AAAAAA
1. Lassiter
2. Centennial
3. East Coweta
4. Lambert
5. Brookwood
6. Central Gwinnett
7. Roswell
8. Harrison
9. South Forsyth
10. Meadowcreek
Class AAAAA
1. McIntosh
2. Glynn Academy
3. Starr's Mill
4. Houston County
5. Heritage-Conyers
6. Allatoona
7. Clarke Central
8. Lithia Springs
9. Greenbrier
10. Evans
Class AAAA
1. Dalton
2. Chestatee
3. Carrollton
4. Northwest Whitfield
5. Johnson-Gainesville
6. Alexander
7. Grady
8. Spalding
9. Mary Persons
10. Southeast Whitfield
Class AAA
1. St. Pius X
2. Blessed Trinity
3. Dawson County
4. North Murray
5. Woodward Academy
6. West Hall
7. Cartersville
8. Cross Keys
9. North Hall
10. Decatur
Class AA
1. Greater Atlanta Christian
2. Calhoun
3. Westminster
4. Coosa
5. Thomasville
6. Westside-Augusta
7. Atkinson County
8. Benedictine
9. Murray County
10. Wesleyan
Class A
1. Atlanta International
2. Paideia
3. Hebron Christian
4. Pacelli
5. Pace Academy
6. Fellowship Christian
7. Holy Innocents'
8. Galloway
9. Savannah Christian
10. Savannah Country Day