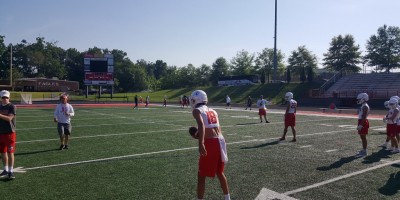 The sixth annual MetroPCS Corky Kell Classic 7-on-7 Tournament is set for Friday, June 10 and will be the first big event of the 2019 GHSA football season. Pool play begins at 9:15 a.m. and will set the seeds for the single elimination bracket that will crown this year's champion.
Last year's winner, Marietta High School, is back again hoping to defend their title. They made quick work of their opponents before squeezing past North Gwinnett 36-35 in double overtime. Three Class of 2020 studs headline for the Marietta Blue Devils: Arik Gilbert (ATH), Harrison Bailey QB), and BJ Ojulari (DE). All three rank top-ten nationwide at their positions and Gilbert is the twelfth highest rated prospect in the country.
Gilbert and Bailey conjured up some magic in the waning minutes of regulation during their championship bout; they worked in conjunction to eliminate an eight point deficit in just 25 seconds to send the matchup to OT.
2018 Runner-up North Gwinnett will be bringing their best as well, including defenders Barrett Carter (2021 OLB), Taylor Goodson (2020 CB), as well as North Carolina-commit Josh Downs (2020 WR).
They are not the only elite talent playing in the 7-on-7, however. Class of 2020 Phillip Webb (Lanier HS) was named to the AAAAAA All-State first team and is the third highest ranked OLB in the nation. Two top-25 running backs will take the field; Carver's Jo'Quavious Marks and Colquitt County Daijun Edwards. Both were honorable mentions for their classifications All-State team.
The quarterback position will be thin in terms of national attention, although Denmark High School will be bringing more than their share of talent. Ben Whitlock (2020 PRO QB) led the Danes' spectacular inaugural football season, but he will fight tooth and nail against Aaron McLaughlin (2021 PRO QB) to retain that role. McLaughlin transferred from Buford- who is also participating in the 7-on7, and has received offers from multiple schools including Alabama and Auburn. Both will be throwing to the more than capable hands of four-star Ze'Vian Capers (2020 WR).
No pool play group (called 'pods') contains two teams from the same region and class, although there is a massive amount of representation from larger schools; more than three-fourths of the teams participating are either an AAAAAA or AAAAAAA team.
A handful of pod-mates did see each other in games last season, be it regular season or otherwise. Pod C's North Gwinnett and West Forsyth saw each other in the second round of state playoffs, a game with the North Gwinnett Bulldogs dominated 41-7. Kell and Carver, Atlanta of Pod F also had some action in the playoffs, but it too was a decisive win; Kell won that game 48-8. Pod G is the only pod to see two previous matchups resurface, and those games were closer… albeit marginally. Colquitt County beat Grayson 26-14, and Chattahoochee was dismantled by Lambert 42-14.