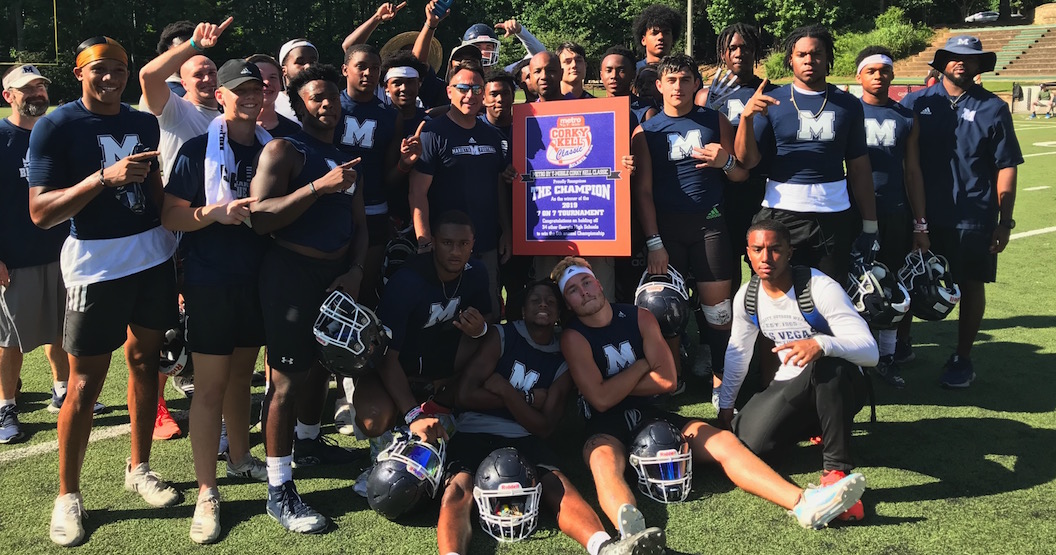 The Marietta Blue Devils earned the No. 16 seed after a 2-2 start in pool play and proceeded to survive four rounds of single-elimination to set up a 22-14 victory over Kell in the 2019 Metro by T Mobile Corky Kell 7-on-7 tournament.
Marietta was rewarded the top seed a year ago when they won the tournament, but this year's team came in missing some key starters and had overcome a pair of early pool play losses to Mill Creek (23-20) and Denmark (23-13)
"We played as bad as we could at some points, so we had to come back from that," said head coach Richard Morgan. "Really, the whole day was like that, just having to overcome everything that was thrown our way with mental toughness."
Marietta opened the tournament with a first-round victory over Norcross (28-22) and then handled West Forsyth 23-8 to set up a quarterfinals matchup with Colquitt County. That game ended in a dramatic 26-24 finish and then the Blue Devils edge out Creekside 18-17 in the semis to set up their all-Cobb County final with Kell, which advanced to the championship as a No. 14 seed.
"There were probably three or four games today where the defense would make a great play and then the offense capitalized and we were able to come out on top," said Morgan.
Commanding the offense for Marietta was Harrison Bailey, the prized four-star Tennessee-commit that Morgan maintains is the best quarterback in the nation. The 6-foot-5 senior is now the first quarterback to lead his team to two Corky Kell 7-on-7 championships.
"He just does everything. He is so good. We just have to keep him healthy this year so we can make that run that we want to make. He is just a great leader and he is going to be great in college, but he has some unfinished business at the high school level and I think you are going to see that this season in terms of his drive and I think that is going to help carry us."
Bailey's top target, five-star athlete Arik Gilbert, dominated the competition as well and will be in Tuscaloosa this weekend on his visit with the Crimson Tide.
OTHER STORYLINES
East Coweta, North Gwinnett, North Forsyth and Denmark were all undefeated in pool play and the No. 1 overall seed went to East Coweta. No. 32 seed West Forsyth topped Centennial 33-19 in the play-in game, however, and then stunned the Indians with an 18-16 victory before running into Marietta in the Sweet 16.
Kell defeated Chattahoochee (28-10), North Forsyth (28-22), Collins Hill (25-15) and Lee County (24-8) to advance to the finals.