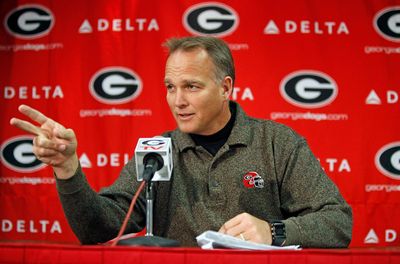 UGA Sports Communications
ATHENS, Ga.– It has been reported over the last week that Notre Dame Quarterback Everett Golson is expected to graduate and transfer to another FBS program to play out his final year of eligibility. We have even heard that Georgia could be a possible final destination.
According to the Atlanta Journal-Constitution's Chip Towers, Golson was expected to visit UGA on Wednesday. When asked about this report, head coach Mark Richt had very little to say during a Wednesday SEC coaches teleconference.
"I try to keep any prospects in the same vein," Richt said. "Where, I don't make public comments on prospects."
As a follow up Richt wasn't asked about Golson, but instead it was about the three quarterbacks already on campus trying to win the starting job. That battle is currently between redshirt sophomore Brice Ramsey, junior Faton Bauta, and redshirt freshman Jacob Park.
"I think we've got guys that are capable of getting the job done," Richt said. "We have three on scholarship. I think I'd always feel better with four or five on scholarship quite frankly just as a normal practice. But, we're just sitting here where we have three and we hope everybody stays healthy. I think we've got some outstanding ball players."
Richt was also asked whether or not any of the quarterbacks could be transferring out of the program. He says at this minute he doesn't see that being the case.
There is no way to know right now, if indeed Golson would consider Georgia or vice versa. The only thing we know at this moment, is that a starting quarterback has still yet to be named for the Bulldogs.