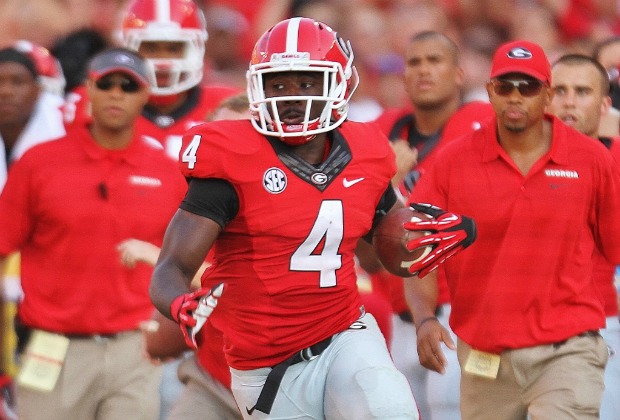 Sonny Kennedy
When it rains, it pours and a string of significant injuries this season has the No. 7 ranked Bulldogs stretching deep into the depth chart. Georgia will now be without sophomore tailback Keith Marshall and redshirt-sophomore wideout Justin Scott-Wesley for the remainder of the season. Both playmakers tore their ACL's in Georgia's 34-31 overtime win against Tennessee on Saturday. Junior wide-receiver Michael Bennett also sustained a knee injury that forced him out of the game. It is not known how long Bennett will be out of action.
Coach Mark Richt confirmed this in his weekly Sunday press-conference.
"Justin Scott-Wesley is out for the season with an ACL injury and Keith Marshall is as well," revealed Richt. "Michael Bennett is going to have a scope on Tuesday to find out what his deal is on his knee, I don't know how long he'll be out but he won't play this week."
The loss of these players hurts, especially the long-term absence of Marshall as starting tailback Todd Gurley rehabs a high-ankle sprain he sustained against LSU. Richt put to rest any claims that Gurley would be rushed back into the starting lineup because of the Dawgs possible bind with the onslaught of recent injuries.
"We're not going to push him [Gurley] any faster. We like the two true freshman backs that have played recently, we think that they're good football players," said Richt.
True freshman J.J. Green is one of the promising young stars capable of starring in Georgia's potent offense and will take the reigns of the Georgia backfield. Green gained 129 yards off of 17 carries against Tennessee on Saturday. The former Camden County Wildcat is averaging 8.8 yards per carry this season and scored his first collegiate touchdown on a 39-yard run against North Texas.
The injured Bulldogs will host the No. 25 Missouri Tigers at noon on Saturday. The 5-0 Tigers are fresh off a 51-28 beatdown of Vanderbilt.