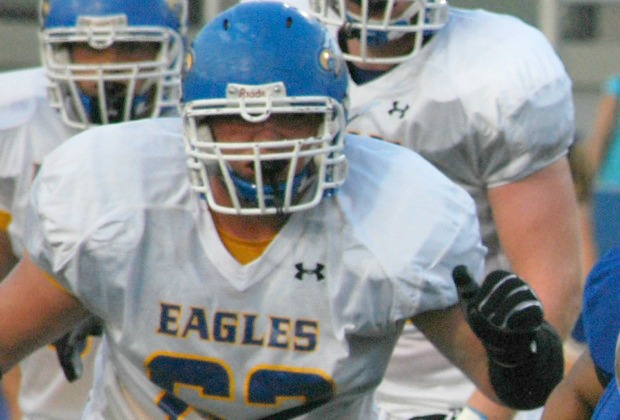 Etowah HS
-You can't say enough about the job coach Dave Svehla has done at Etowah in less than two years at the Woodstock school. The Eagles are 6-0 after surviving Roswell 38-36 two weeks ago and getting past Milton Friday 24-15. The win over Milton was most impressive as multiple Etowah starters were held out due to disciplinary reasons. Raishod Devezin stepped in at tailback and ran for 329 yards and two scores. The Eagles matched their best start since 1987.
-Hard-luck Coffee started the season 4-0 against solid competition, but has lost its last two, both against Region 1 opposition. On Friday, the Trojans lost to Camden County 28-21 when the Wildcats scored with 17 seconds left to play. The previous week, Coffee lost its region-opener to Tift County 17-14. Fortunately for coach Robby Pruitt's squad, Brunswick is next, followed by a home game against a struggling Lowndes team. If Coffee can win both of those contests it will make the playoffs, where the tough schedule should pay dividends.
-Class A-Private is stocked with several solid clubs, although none are quite as dominant as ELCA. Mount Pisgah is one of those quality Class teams that is simply unfortunate to be in the same classification as the aforementioned Chargers, who seem head and shoulders above every other Class A team. The Patriots are 5-0 and coming off an impressive 47-0 blowout of a respectable Walker team. The school record for wins is seven, and coach Mike Forester's squad looks like it will blow that mark out of the water. The No. 7 Patriots face No. 4 Mount Paran on Oct. 25 in a huge Region 6 matchup.
-North Paulding upset region-rival South Paulding with a 31-28 nailbiter in Dallas. The Wolfpack's win threw Region 5-AAAAA into a tizzy, as there are now four one-loss teams at the top of the 10-team region. As is often the case in football at any level, South Paulding could not win a second-consecutive emotional battle against a region rival.
-Lovett could not hold on to a 33-21 lead midway through the fourth quarter and lost in overtime to Class AAA Washington County. It was yet another quality opponent on the Class AA Lions' incredibly rough schedule. Lovett was without injured QB Willie Candler, but fought valiantly in what was one of this season's best games so far. WaCo was able to run the ball almost at will with 412 rushing yards, 204 of which were by Malik Jackson. Lovett, meanwhile, had 138 rushing yards by star RB by Grant Haley and 134 by Jay Harris.