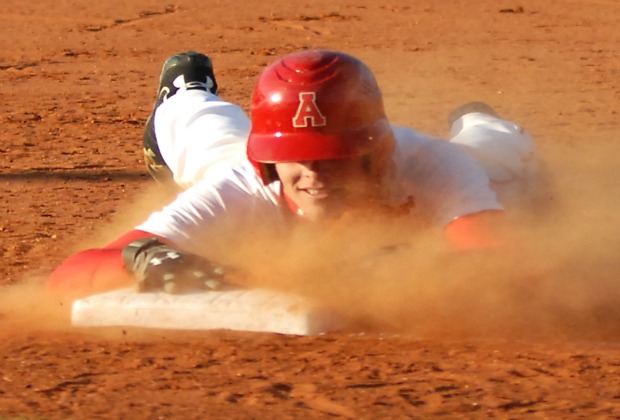 Sonny Kennedy
There's yet another new No. 1 in Class AAAAAA as the McEachern Indians have finally reached the apex of Georgia high school baseball in our poll originally released Tuesday on AJC.com. The Indians have lost just one game since March 13. Also in the state's largest classification, Parkview ascended to No. 2 after winning six straight since its spring break trip to Florida. The Panthers have outscored the competition – all Region 8 rivals – 58-15 during the winning streak. Grayson entered the top 10 for the first time this season after winning nine straight.
Starr's Mill sneaked into the top five in Class AAAAA in the midst of a 6-game wining streak, including a win over McIntosh. Houston County debuted in the rankings after compiling an impressive 18-3 record.
In Class AAAA, Columbus and Alexander each lost games last week and Marist happily moved up to No. 2 as a result. Alexander, which dropped two games, fell to No. 8.
Pierce County fell to Appling County in Class AAA, causing Pierce to drop to No. 5 and allowing Appling to return to the poll at No. 10.
Cook is back in the Class AA rankings as the perennial power from South Georgia has fought its way through a tough schedule to a solid region record. Wesleyan dropped out after losing a bevy of recent games.
George Walton Academy took over at No. 1 in Class A-Private after beating Eagle's Landing Christian Monday. Class A-Public saw no changes.
Class AAAAAA
1. McEachern
2. Parkview
3. Johns Creek
4. Milton
5. Walton
6. Marietta
7. Mill Creek
8. East Coweta
9. Grayson
10. South Gwinnett
Class AAAAA
1. Gainesville
2. Greenbrier
3. Loganville
4. Whitewater
5. Starr's Mill
6. Dunwoody
7. East Paulding
8. Winder-Barrow
9. McIntosh
10. Houston County
Class AAAA
1. Crisp County
2. Marist
3. Columbus
4. Eastside
5. Redan
6. Veterans
7. Stephens County
8. Alexander
9. Lanier
10. Griffin
Class AAA
1. Blessed Trinity
2. North Hall
3. Cartersville
4. Buford
5. Pierce County
6. St. Pius X
7. Woodward Academy
8. Chapel Hill
9. North Oconee
10. Appling County
Class AA
1. Jefferson
2. Lovett
3. Westminster
4. Pepperell
5. Bremen
6. Benedictine
7. Berrien
8. Lamar County
9. Cook
10. Calhoun
Class A-Private
1. George Walton Academy
2. Eagle's Landing Christian
3. First Presbyterian
4. Mount Paran
5. Holy Innocents'
Class A-Public
1. Gordon Lee
2. Emanuel County Institute
3. Charlton County
4. Baconton Charter
5. Johnson County