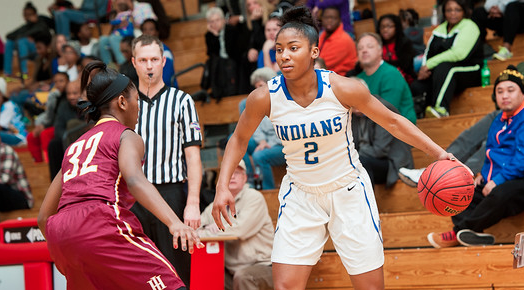 Photo by Ty Freeman
McEachern reclaimed its top spot in Class AAAAAA after Osborne fell to Spain Park (AL) 58-51 on Saturday. South Forsyth jumped to No. 2 and Osborne sits at No. 3. In Class AAAAA, Cross Creek climbed three spots to No. 4 and Greenbrier jumped four spots to No. 6.
Veterans perfect season ended last week in a 44-39 road loss to Mary Persons and St. Pius took over No. 1 in this week's Class AAAA poll. Mary Persons climbed to No. 4 with the win and continues its own undefeated season.
In Class AAA, Calhoun replaced Dodge County at No. 8 and Westminster debuted at No. 10. The top 8 in Class AA remained in tact but Lovett returns to the poll at No. 9 and replaces Union County.
Savannah Country Day lookover No. 4 in Class A and sent Turner County to No. 5. Tattnall Square improved to No. 7 and Claxton jumped one slot to No. 8.
Class AAAAAA
1. McEachern
2. South Forsyth
3. Osborne
4. Parkview
5. Archer
6. North Forsyth
7. Westlake
8. Norcross
9. Woodstock
10. Mountain View
Class AAAAA
1. Brunswick
2. Stephenson
3. Sequoyah
4. Cross Creek
5. Mays
6. Greenbrier
7. Effingham County
8. Forest Park
9. Southwest DeKalb
10. South Effingham
Class AAAA
1. St. Pius
2. Jonesboro
3. Buford
4. Mary Persons
5. Veterans
6. Americus-Sumter
7. Redan
8. Marist
9. Bainbridge
10. Carrollton
Class AAA
1. Dawson County
2. Kendrick
3. Laney
4. South Atlanta
5. Decatur
6. Morgan County
7. Beach
8. Calhoun
9. Washington County
10. Westminster
Class AA
1. Holy Innocents'
2. Pelham
3. Model
4. Wesleyan
5. Darlington
6. Putnam County
7. Thomasville
8. Vidalia
9. Lovett
10. Early County
Class A
1. St. Francis
2. Southwest Atlanta Christian
3. Taylor County
4. Savannah Country Day
5. Turner County
6. Calhoun County
7. Tattnall Square
8. Claxton
9. Mitchell County
10. Stratford Academy