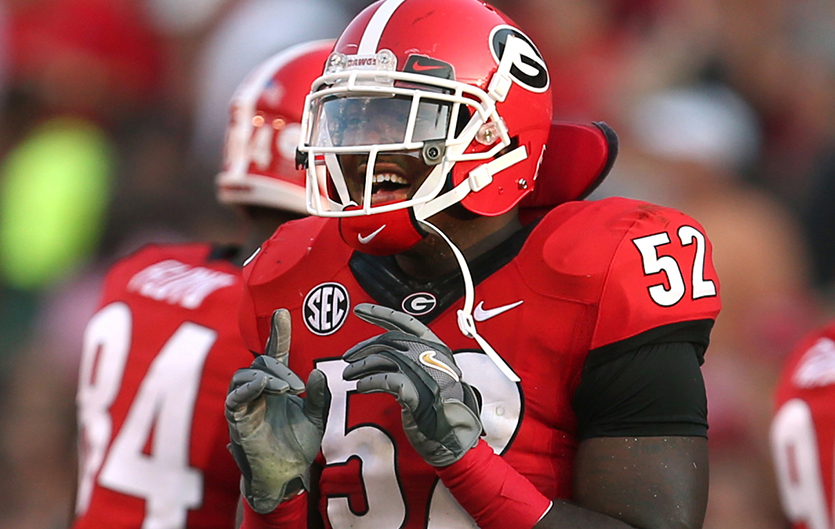 AJC.com
This week the Atlanta Falcons and many other NFL teams will be down in Mobile, Alabama to look at future prospects for their franchise. I will be down there for the next three days and this is a list of players to look out for during this week of practice and in the game.
According to the football draft website WalterFootball.com, the Falcons are in need of a rush defensive end/outside linebacker, inside linebacker, tight end, safety, offensive guard, and running back.
Based on this list, I have compiled a list of players this week at the Senior Bowl to keep an eye on.
OLB Lorenzo Mauldin: Louisville
6'4 252 from Atlanta, Georgia
Moved to OLB this season with Todd Grantham coming in to bring the 3-4 defense this season. Prior this season, he played 36 games on the defensive line before moving further outside. He had a career best 51 tackles this season. He was second on the team this season with 13 tackles for a loss. Mauldin had 12 in 2013 and 6.5 TFL's in 2012. He was also second on the Cardinals defense with 6.5 sacks and had 9.5 sacks in 2013.
DE Za'Darius Smith: Kentucky
6'6 263 Greenville, Alabama
Smith had 60 total tackles, seven tackles for a loss, and 4.5 sacks this season for the Wildcats. He was said to have been really impressive last week at the East-West Shrine Game during practices. He comes to Mobile with a chance to get a jump up NFL team's draft boards. Maybe one of those boards could be the Falcons?
OLB Jordan Hicks: Texas
6'1 234 Cincinnati, OH
Hicks played for 3 different defensive coordinators in the last two years (Manny Diaz, Greg Robinson, and Vance Bedford). He was a 5 year player at Texas, with 45 games under his belt. Put up 12 double-digit tackle games with the Longhorns. Had an Achillies injury in 2013 (played just 4 games) and medically redshirted in 2012 with a hip injury. Put up 136 tackles this season, 2 INT's, and 12 TFL's this year. Could he maybe move inside? If so, the Falcons could be in the market for him.
DE Preston Smith: Mississippi State
6'6, 267 Stone Mountain, GA
Smith has two of the qualities that the Falcons really need up front. He has size and he's got length. He was a 2014 first team All-SEC Coaches selection. Smith had 134 total tackles, 27 TFL, and 16 sacks during a 47 game career at Mississippi State. He also had 15 tackles for a loss, 15 quarterback hurries, and nine sacks this year. Plus, he had 6.5 TFL and 2.5 Sacks in 2013.
DE Trey Flowers: Arkansas
6'3 262 Huntsville, Alabama
Flowers started all 13 games this season for the Razorbacks. He was named 2nd Team All-SEC by the coaches. He had a heck of a season the offensive backfield. He picked up 68 total tackles with 15.5 tackles for a loss and 6.0 this year. The 15.5 was enough to rank him 4th in the SEC. You can't forget about the 13.5 TFL and 5 sacks he had in 2013. Played all four years at Arkansas and became a starter in 2012.
LG Arie Kouandjio: Alabama
6'5, 315 from Hyattsville, MD
Kouandjio became a full-time starter in 2013 at left guard. His older brother Cyrus also played at Alabama. Cyrus now plays for the Buffalo Bills. Arie allowed 2 sacks in 2013. This season he blocked for Blake Sims, who had the ability to keep a play alive with his feet. That is something the Alabama offense did not have to concern themselves with while AJ McCarron was there.
RG Shaq Mason: Georgia Tech
6'1, 311 Columbia, Tennessee
Mason started all 14 games this season at right guard for the Yellow Jackets. Helped lead one of the nation's best rushing offenses. Was a USA Today first team All-American in 2014. Georgia Tech ran for 342.1 yards per game and 4,789 for the season with Mason up front. The Falcons are in need of an offensive line that can better block for the run.
DE Owamagbe Odighizuma: UCLA
6'3 270 from Portland, OR
Odighizuma picked up 11.5 tackles for a loss this season and 61 tackles. He is a 5th year senior, after missing 2013 with an injury. Like Preston Smith from Mississippi State, Odighizuma has the length/size.
RB Cameron Artis-Payne: Auburn
5'10, 210 from Harrisburg, PA
Artis-Payne ran for 1,608 yards in 2014. That is the 3rd best rushing performance in Auburn history. He led the SEC with 123.7 yds per game. Scored 13 TD's this season. Was First Team All-SEC. He was a JC transfer from Allan Hitchcock in California. Could he be in the market for the Falcons? A running back could use another back for depth.
DE Markus Golden: Missouri
6'2, 260 St. Louis, Missouri
He was a beast in the backfield this season, finishing 2014 with 20 tackles for a loss. He racked up 78 total stops this season. Not to mention, he was also able to sack the quarterback 10 times this season. He hurried the quarterback 12 times and forced three fumbles. Not to mention he was able to break up 2 passes this year. He returned one TD to the house for the 21 yards on a fumble. Golden could be an attractive player for the Falcons, given his ability in college to get up field.
S Cody Prewitt: Ole Miss
6'2, 215 Bay Springs, MS
Prewitt had 64 tackles as a senior in 2014. Not to mention he was also able to return one of three interceptions on the season to the house for a touchdown. Broke up 2 passes and forced one fumble this season. Prewitt showed that he has the ability to be near the football a lot and get the ball back at times.
ILB Amarlo Herrera: Georgia
6'0, 244 from College Park, GA
Herrera finished 2014 with 115 total tackles (44 Solo), 10 TFL, 3 sacks, 1 INT, 1 PBU, 6 QBH's, & 1 fumble recovery. He helped this Georgia defense to a 17th overall ranking nationally for total defense. They were 45th in 2013. Had about 330 total tackles during his career at Georgia. Herrera played all 4 years at Georgia. His toughness, football IQ, and physicality would make him attractive to the Falcons brass for the future of this defense.